Implementing a good skincare routine is not just about the products you put on your face. Ensuring you are consuming the correct nutrients is key to having clear, glowing, healthy skin. Post summer holidays, before the start of a busy school year is the perfect excuse to start a new healthy regime, especially and the constant treating yourself. Give your body the best kick by supplying it with the finest nutrients and Clean Clinical Vitamins™, to promote skin health as well as overall wellness. Each supplement is void of fillers, additives and synthetic ingredients, so there's no need to worry about any added chemicals. Feel and look more energised so you can tackle back to school and anything the new season throws at you.
Comprised of clean, clinical, plant-based ingredients, this trio of skin-perfecting supplements hones in on three of the most common age-related skin issues: discoloration and uneven skin tone, dryness, and breakouts. SkinCapsule is backed by the same clinical research that Hush & Hush is widely known for—scientifically-sound data that supports results-oriented products. The three-piece skin-centric line can be used as part of a long-term treatment plan or as needed. Formulated with only clean ingredients, each supplement addresses a specific skin-related concern to tackle problematic issues once and for all.
The vegan, NON-GMO, gluten-free SkinCapsule line is created without gelatin, artificial colorants, flavorings, or additives. Meet the lineup for the skin you desire:
SkinCapsule™ BRIGHTEN+ – RRP €65.00/ £60.50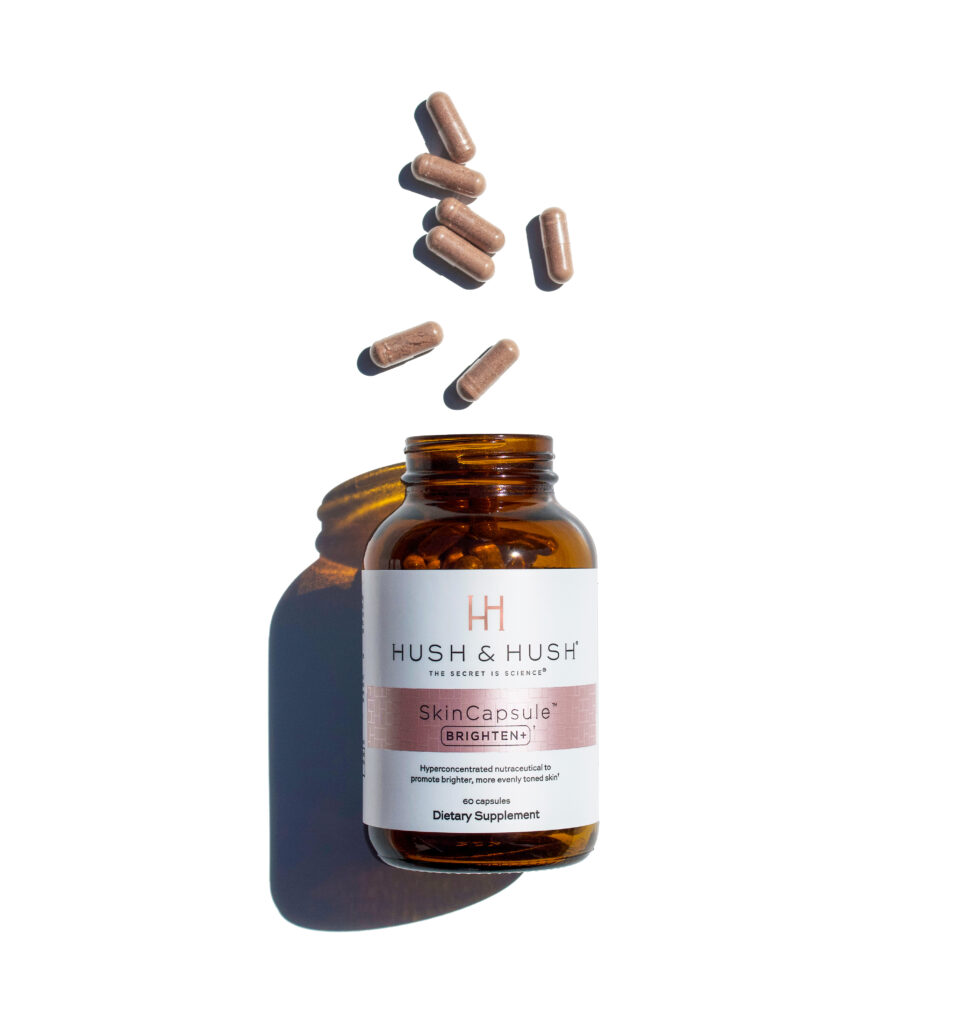 This naturally derived dark spot and discoloration reducing supplement relies on clean, clinical ingredients to brighten dull-looking skin. It also helps to diminish the appearance of age-related skin tone changes, sunspots, redness, and age spots for brighter, healthier-looking skin. Vitamin C plus proprietary ingredients like SkinAx2, Lutemax, and Saberry® regulate melanin synthesis.
SkinCapsule™ HYDRATE+ – RRP €65.00/ £60.50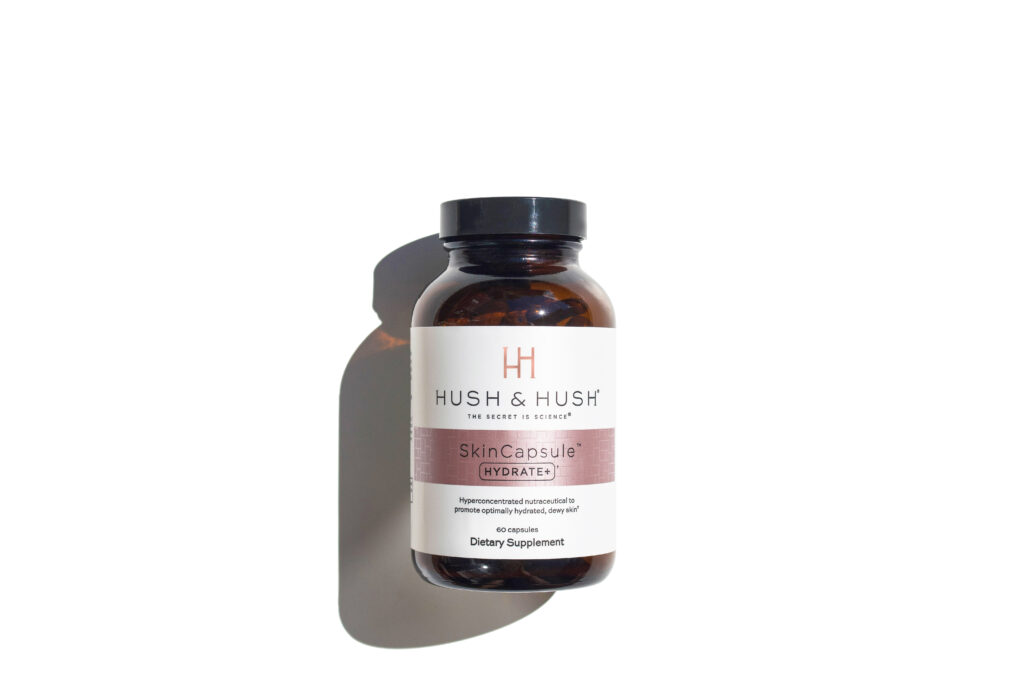 This super hydrating supplement harnesses the power of clean, clinical, plant-based ingredients, including vitamin C, vegan fermented hyaluronic acid, Korean red ginseng, Cococin™, and Ceramosides, to create optimally hydrated, perfectly balanced, glowy skin for that 'lit-from-within' look. Ideal for those with dry, dehydrated, rough, and weathered skin that craves moisture, a bevy of skin hydrating ingredients work from the inside out to reduce dryness and increase skin hydration in just 15 days.
SkinCapsule™ CLEAR+ – RRP €50.00 / £46.50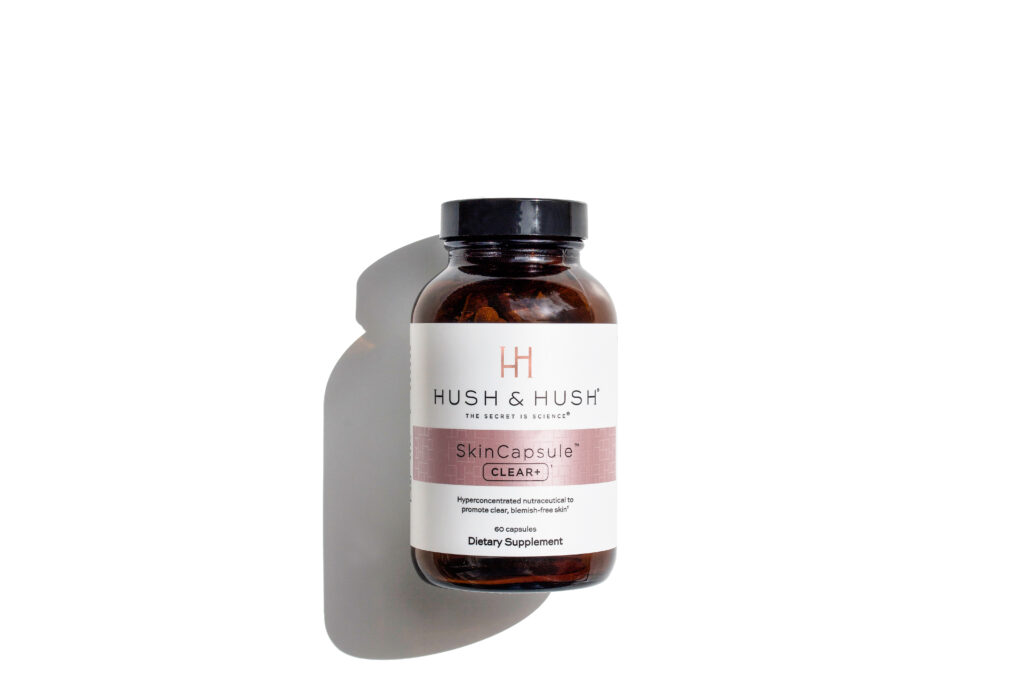 This skin balancing, anti-blemish supplement is formulated with clean, clinical, plant-based ingredients and botanicals to help reduce pore-clogging oil, soothe reddened skin, and help to diminish the severity and number of breakouts on the face, chest, and back. It helps to alleviate blemishes and breakouts, redness, and excess oil without drying out the skin thanks to a unique blend of ingredients including selenium, zinc, turmeric, vitamin A, and pantothenic acid.
Hush & Hush can be bought online at http://www.hushandhush.ie/ and selected professional beauty salons.
Instagram: @hush_and_hush_ire