More than 800 million people suffer from inflammation and red itchy skin because of a number of factors including weather, stress, and genetics. If you have rash-like symptoms that appear on your arms, behind your knees, or on areas of skin exposed to varying environmental factors, you might have eczema (also known as atopic dermatitis).
Those who suffer from the common skin condition know that it does take a bit of trial-and-error to find soothing, hydrating products that calm current (and prevent future) flare-ups. To help expedite your journey, Suu Balm has the perfect range of products for eczema that they recommend you should be using. Seriously, don't let dryness and itch get you down!
At its core, eczema is a common, non-contagious, skin condition which can lead to dry, scaly skin with some redness and itching, though in more severe cases the skin can crack, bleed, and/or crust. It involves a disruption of the skin barrier combined with an overactive immune system
There are different types of dermatitis, including atopic eczema, allergic contact dermatitis, irritant contact dermatitis, and asteatotic (due to very dry skin) eczema. When most people talk about eczema they usually are referring to atopic dermatitis or atopic eczema. Atopic dermatitis is common and tends to run in families along with asthma and hay fever.
We still don't know exactly what causes eczema, but researchers believe that it's brought on by a combination of genetics and environmental triggers. Eczema is 40-50% more likely to occur in children if one parent has a history of the condition. This increases to 50-80% if both parents suffer with eczema.
Cold weather and dry air often go hand in hand. Too much dry air can zap your skin of natural moisture. Dryness often leads to itching, which then leads to scratching and inflammation. On the other hand, hot weather can also irritate eczema. Heavy perspiration can lead to itchy skin as well as prolonged exposure to water is another eczema-trigger.
The best way to prevent eczema scarring is to effectively prevent and manage itching in the first place. When the itch is out of control, we do the most damage to ourselves. Using an appropriate itch relief cream is essential –low dose menthol, when applied to the skin, replaces the itch sensation with a cool sensation within minutes, ideal for breaking the itch-scratch cycle. Keeping the skin well moisturized using a soothing moisturizer, particularly those that contain ceramides, which are naturally occurring lipids (fats) in the skin, that help to maintain normal skin barrier function. As well as that, keeping nails trimmed and smoothed go a long way to reduce the risk of eczema scarring. The most important thing is to maintain a healthy skin barrier by using a gentle cleanser twice daily and moisturizer twice daily without any harsh ingredients.
SUU BALM DUAL RAPID ITCH RELIEVING AND RESTORING BODY MOISTURISER 350 ML (RRP €29.95)
By improving the skin barrier function, Suu Balm reduces irritation from external environment and reduces itch. Suu Balm Body Moisuturiser provides a fast-acting itch relief to break the itch-scratch cycle, allowing you to sleep, study and work in peace. This moisturiser is a Godsend for people with itchy dry skin. A cooling dose of menthol stops the itch within minutes, meaning you can get back to sleep or get respite from the torment. It contains ceramides to restore the skin lipid barrier, alongside urea and glycerin to restore the skin's natural moisturising factor. Breaking the itch-scratch cycle will help prevent further damage to the skin from scratching. You won't believe it until you try it! This Moisturiser enables skin to maintain its healthy pH balance of ~5.5 – the pH that maintains a healthy, functioning skin barrier. This moisturiser boasts a llight, non-sticky texture, so it's comfortable to use in the summer months!
SUU BALM CREAM DUAL COOLING AND MOISTURISING CREAM BODY WASH 420ML (RRP €14.95)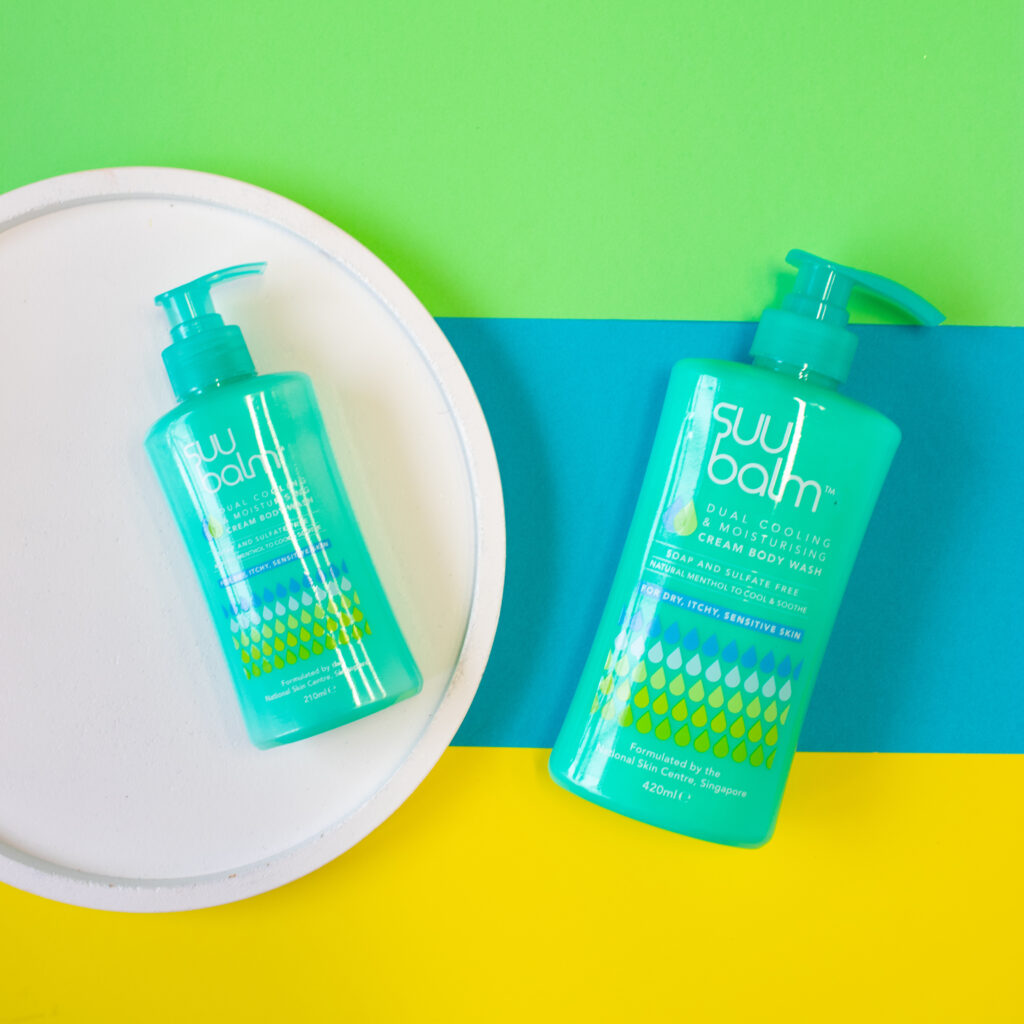 This body wash is a super gentle refreshing cleanser for the skin. You may not realise it, but many of the body washes we use contain ingredients that can irritate sensitive skins – ingredients such as soaps, Sulphate, fragrance, parabens and preservatives. Suu Balm wash is entirely free of these potential irritants! It contains five moisturisers to nourish the skin (Hydroxyacetophenone, Caprylic/ Capric Triglyceride, Butyrospermum Parkii (Shea Butter), Betaine, Sodium Hyaluronate) as well as a dash of lovely, refreshing menthol to calm the skin during showering. Lovely to use and great for your skin – a win-win!
About Suu Balm:
Suu Balm is a range of products specifically developed for people with eczema and sensitive skin. All the products have been developed by Dr Tey Hong Liang, Senior Consultant Dermatologist at Singapore's National Skin Centre, and all are designed to address unmet needs of patients with eczema and people with sensitive skin. The company behind Suu Balm was co-founded by Dr John O'Shea, born and raised in Dublin, who after working for several years as a doctor decided to start a business that would provide ultra-high-quality products to people with skin concerns.
The whole range employs premium quality ingredients from a range of European, American, Japanese and other suppliers – Dr Tey will only allow the best of ingredients in his products
Suu Balm is available on their website www.SuuBalm.com, Boots and selected Lloyds Pharmacies
Follow us on Instagram @Suubalm_eu