YON-KA FACIAL IN A BOX (€49)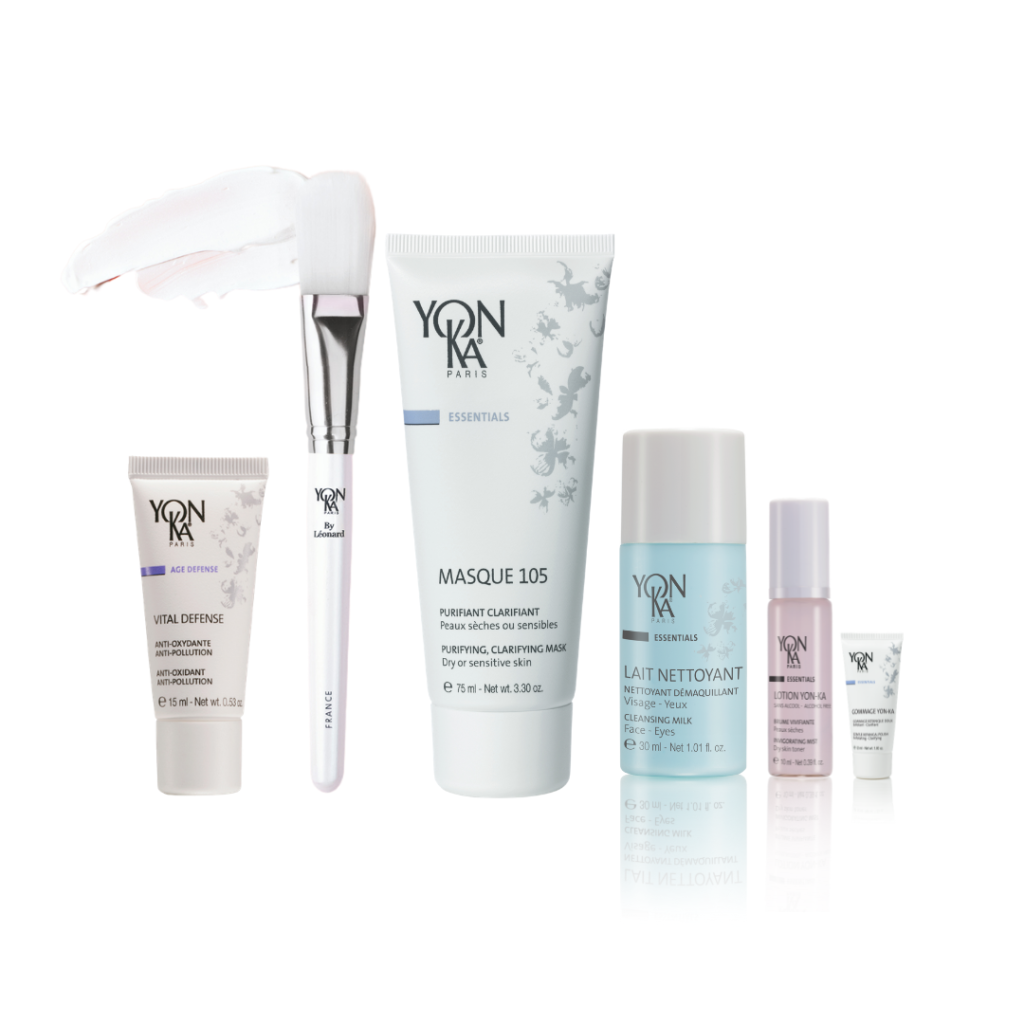 Since most of us have not been able to physically visit Paris in some time, Yon-Ka Paris has the the perfect 'treat yourself' product to transport you to Paris via your senses at home and experience a slice of Parisian pampering. Yon-Ka Paris products contain the iconic Quintessence scent that is sure to transport you to from your bathroom to France, as well as leave your skin soft, supple and glowing.
This kit includes:
YonKa Masque 105 75ml
Lait Nettoyant 30ml
YonKa Lotion PS 10ml
YonKa Vital Defense 15ml
Gommage YonKa 5 ml
YonKa Mask Brush x1
YonKa Masque 105:
A luxurious clay mask composed of three natural clays to effectively purify skin. Botanical complex helps tighten pores and soothe dry, sensitive and irritated skin.
Lait Nettoyant:
YonKa Lait Nettoyant is a 2 in 1 cleansing and softening milk which is suitable for all skin types. All traces of makeup from eyes, lips and face are removed and skin is left beautifully balanced.
YonKa Lotion PS:
More than just a toner, this healing mist is a true Phyto-aromatic fountain of beauty, essential for re-balancing and preparing the skin for everyday beauty products. Alcohol-free, it refreshes, tones and sanitises the skin, the energising effects of its essential oils can be felt throughout the whole body.
YonKa Vital Defense:
Specially formulated to combat damaging environmental factors that cause oxidative stress this intensely hydrating, luscious cream combines high-performance plant extracts that help the skin to preserve its youthfulness.
Gommage YonKa:
A non-abrasive, botanical exfoliator that gently removes dead cells, provides clarity for dull complexions, hydrates and balances the epidermis.
Yon-ka products are created with plants, fruits, and marine extracts to balance, soothe, revive, and rejuvenate. Each ingredient has a specific role to play fruit acids moisturize and enhance the complexion, vitamins combat free radicals, seaweed re-mineralizes, and plant oils nourish and soften.
Yon-ka Paris skincare is available from approved professional salons nationwide. For local stockist information visit www.renaissance-skincare.com/yonka/