Create, capture & treasure those special moments this summer, with NOTE Cosmetique. Take NOTE of something special everyday, while looking and feeling your best with newness from NOTE Cosmetique.
#NOTEableMoments #TakeNOTE #NOTECosmetiqueIreland 
NOTE Detox & Protect Foundation – € 13.95 / £11.95
The rich and creamy formula of the Detox and Protect Foundation provides medium to full coverage and a silky satin finish. With vitamin E known as an antioxidant and sweet almond for its nourishing properties, your skin is nourished while this foundation also acts as a shield against free radicals and environmental factors, with SPF 15 for added protection. The Detox and Protect foundation delivers a semi matte finish and medium to full coverage.
NEW Shades: 06 Dark Honey, 108 Terra, 110 Smoke, 113 Honey Bronze, 115 Ebony
NEW NOTE Le Volume Gloss – € 7.95 / £6.95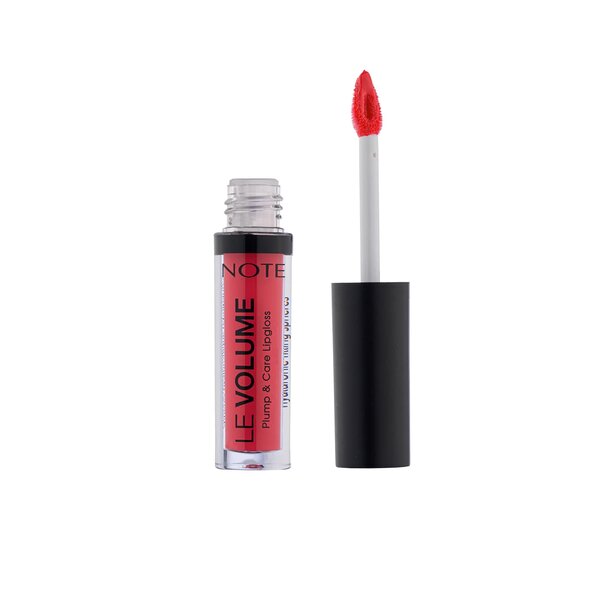 Sometimes all you want is a simple shine on your lips. No fuss. No drying out. Just a glossy sheen to amplify your lips. You want something that won't be too sticky and something that you don't have reapply every five minutes. These New Glosses from NOTE hit that perfect sweet spot, while also adding on a bunch of skin benefits you didn't think were possible with lip gloss. This is a new generation lip gloss with effective plumping-volumising effect. Comfortable, smooth formula, super cushion feeling. Addicting aroma and taste. Volumising and plumping effect with hyaluronic acid to nourish and hydrate lips and with a sheer transparent finish.
Shades: 01 Happy Morning, 02 Just Nude, 03 Candy Rose, 04 Like A Star, 05 No Fear Red, 06 Heart Breaker, 07 Mellow Thoughts, 08 Dark Caramel
NEW NOTE Translucent Setting Powder- € 8.95 / £7.95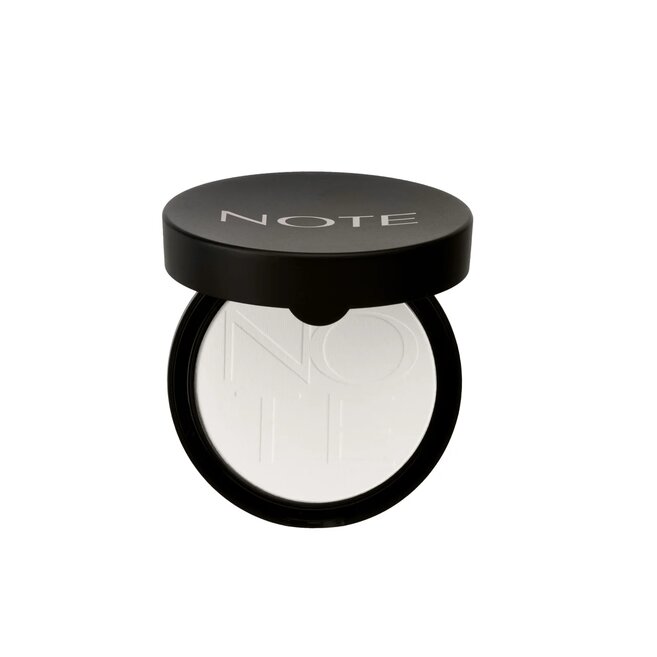 This lightweight translucent powder sets your makeup and minimises the effects of pesky blue light on your skin. Infused with Carotolino, a blend of carrot root extract, carrot seed oil and B-carotene, proven to shield against blue light induced radicals on skin. This powder leaves a lightweight matte finish and helps to soften the appearance of lines. Contains Hemp Seed oil for extra moisture throughout the day and avoids that dull cakey look we all try to avoid, while keeping oily t-zones at bay.
NEW NOTE Bi-Phase Make-up Remover – €7.95 / £7.50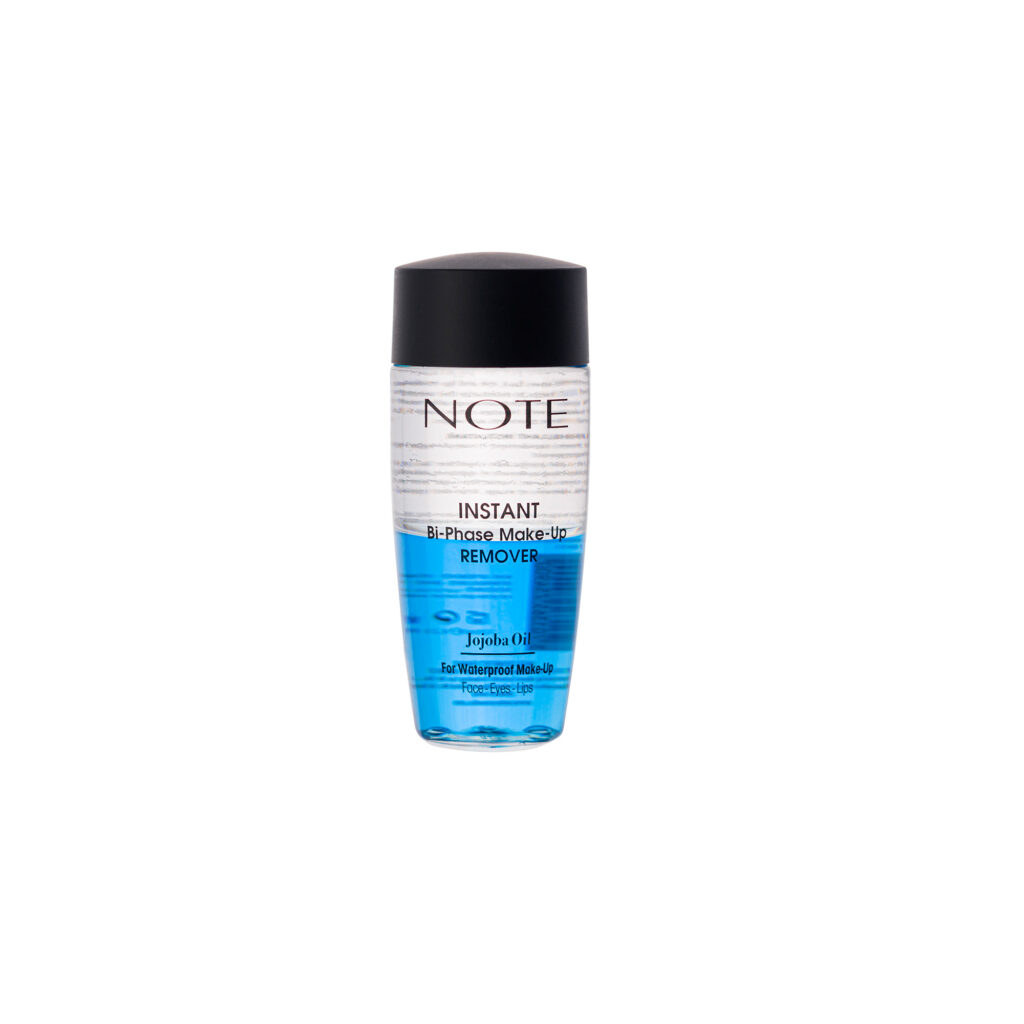 This is a new make up bag essential for gently and quickly removing face, eye and lip make-up, even of the waterproof variety. Containing nourishing Jojoba oil to help to moisturize the sensitive skin around the eye. Say goodbye to panda eyes and hello to fuss-free make up removing!
NOTE Perfecting Pen – € 8.95 / £7.95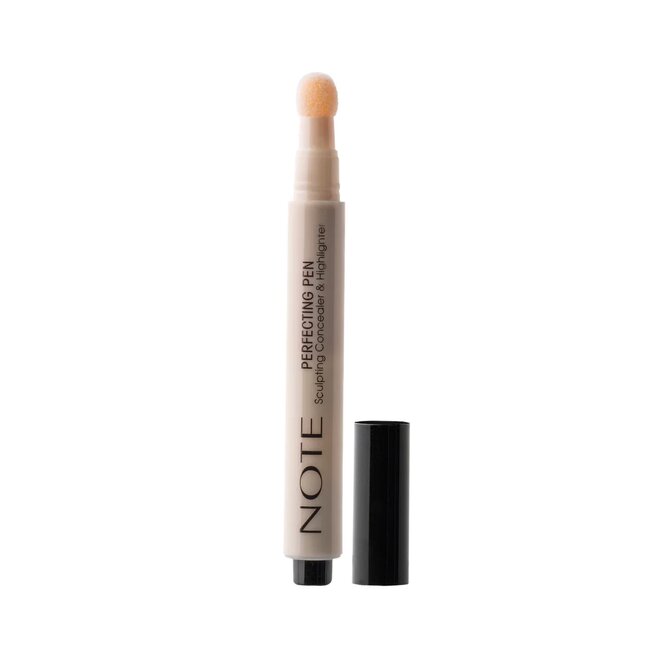 The Perfecting Concealer & Highlighter Pen is a brightener, enhancer and corrector in one handy pen. The light, silky formula is designed with colour correcting optics that even skin tone, reduce puffiness and minimise imperfections like blemishes, dark circles and wrinkles. Vitamin E and antioxidants also arm your skin with protection against environmental stressors. The Perfecting Concealer and Highlighter Pen is great for people who like to use only a small amount of product because you can control exactly how much you apply onto your skin. Its consistency is more like a foundation than a concealer because it is not as concentrated and pigmented as our other concealers which is great for younger skin that only needs a touch of concealer but still want to brighten and glow.
NEW Shades: 03 Light Beige & 04 Warm Beige
Volume One Touch Mascara (Shade Black) – €11.95 / £9.95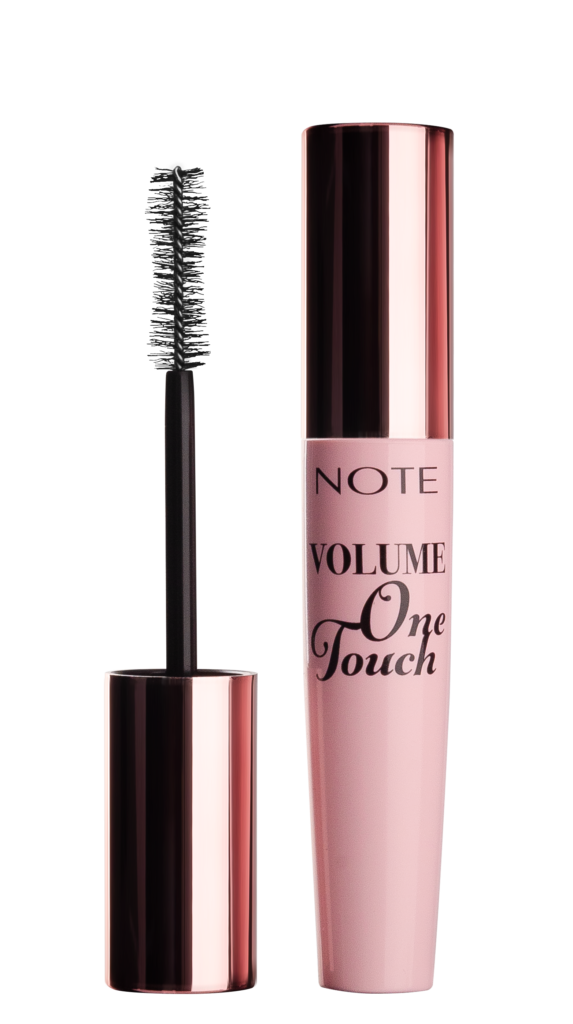 Designed to envelope the lashes with extra volume and length, the Volume One Touch Mascara effortlessly defines lashes for a glamorous look that lasts all day long. With just one coat, this creamy and very easy to apply formula coats lashes generously, giving thickness and length even to the thinnest lashes.
One stroke – false lash effect
Super long-lasting formula – humidity resistant.
Soft fiber brush with hourglass shape
Includes nourishing castor oil and green tea extract.
Ophthalmologically tested
Brow Addict- €10.95/£9.95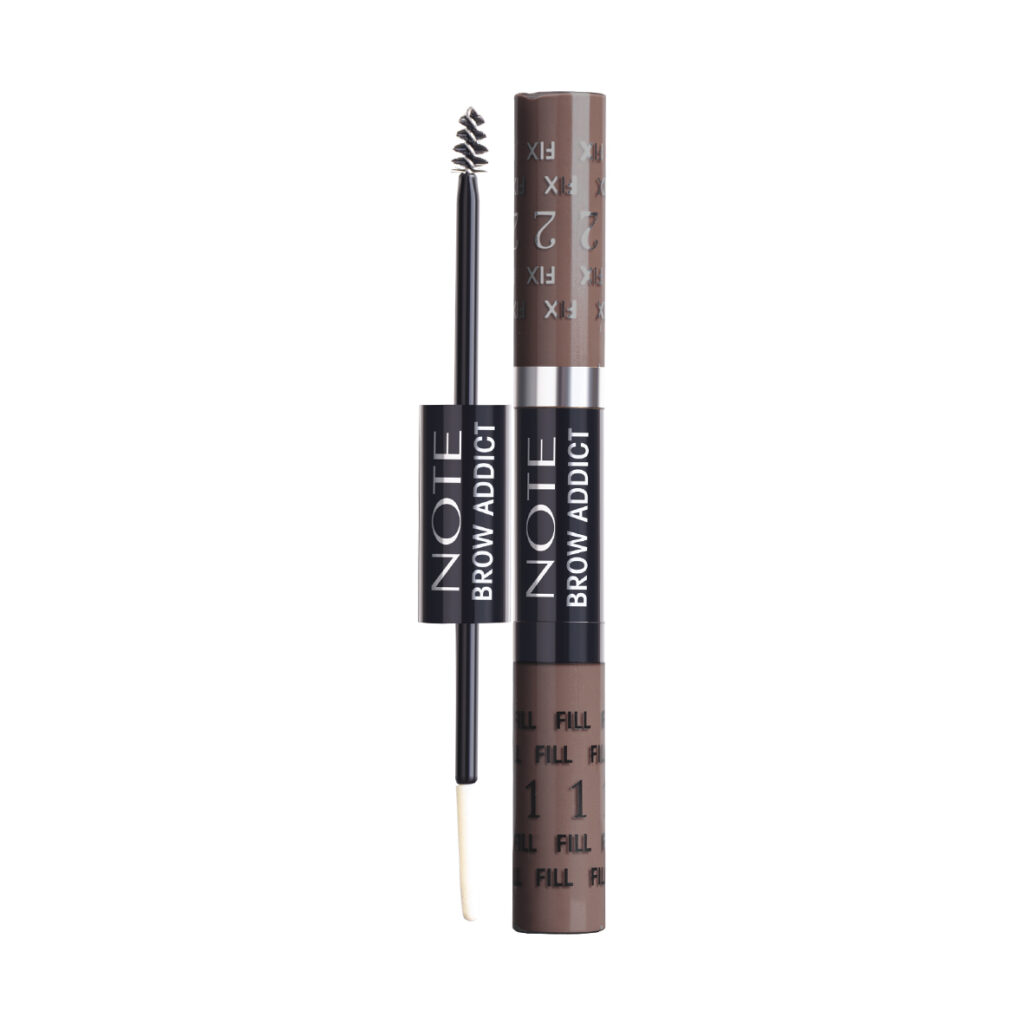 A two-in one tınt and shaping gel for perfect long wearing brows in just two steps.Using an innovative applicator, the tint adds colour, fills gaps and helps perfect the brows' shape
The shaping gel is quick drying and contains jellifying polymer and a film-former to ensure brows stay in place all day.
A perfect longwearing brow look in two easy steps.
Shades: 01 Dark Blonde, 02 Light Brown, 03 Dark Brown, 04 Grey Brown
Love At First Sight Eyeshadow Palette – €18.95 / £17.95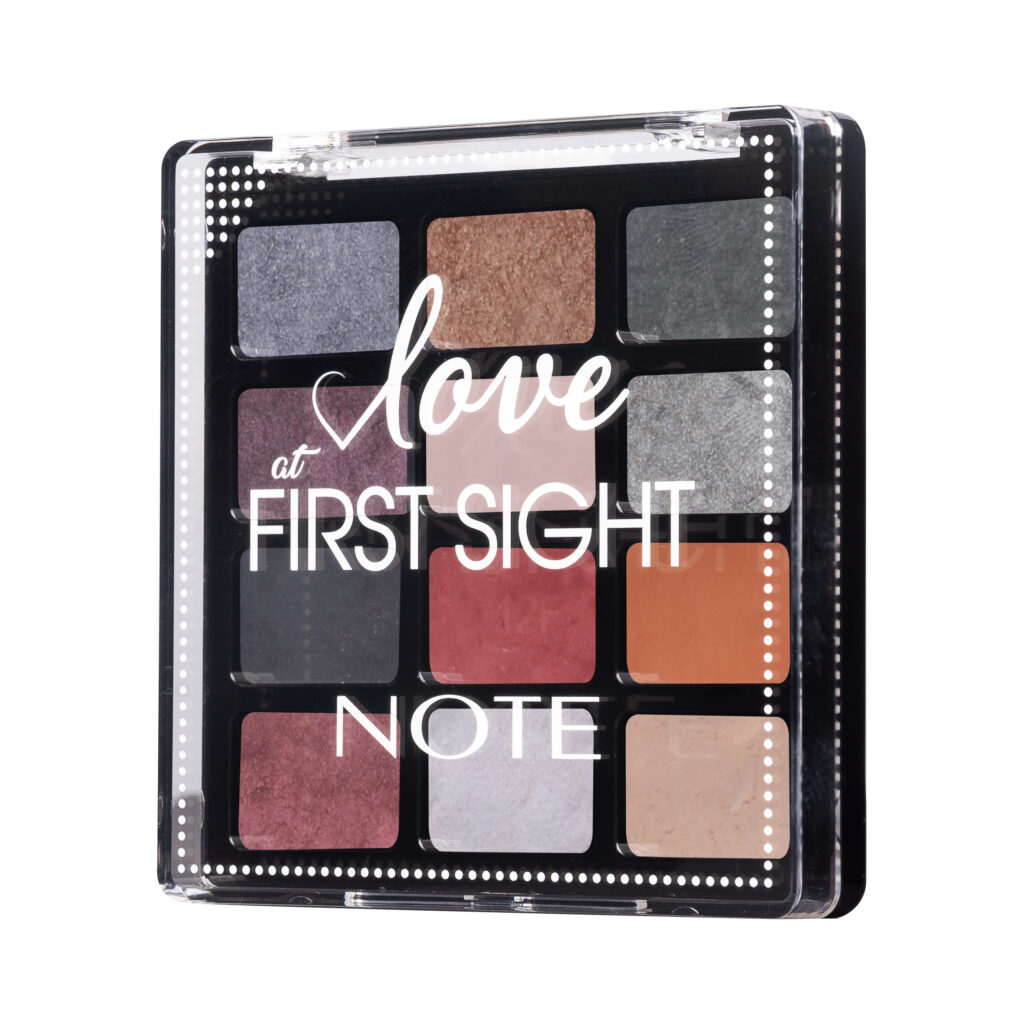 The best mix of pearly, matte and metallic eyeshadow textures to suit your mood.
Contains 3 different finishes: 4 matte + 4 satin + 4 metallic.
An explosion of colour that's super long lasting thanks to the strong adherence of the pigments and pearls.
Strong colour pay off.
The formula can be applied wet or dry.
Contains vitamin E.
Shades: 201 Daily routine, 202 Insta lovers, 203 Freedom To Be
Instagram@NOTECosmeticsIreland
Facebook @NOTECosmeticsIreland 
#NOTEableMoments #TakeNOTE #NOTECosmetiqueIreland