During these unprecedented times, stress is higher, and we are out of our usual routines. Taking care of those we love is important, but it is also important to take care of ourselves. Without access to our usual self-care rituals from professionals, we must make new rituals for ourselves at home! Like so many other things, we tend to rush through our daily bathing routines – in the process forgetting the longstanding significance and restorative power of this daily ritual. On the contrary, bathing can and should be a meditative, reflective part of daily life. Life has a way of getting on top of us, breaking away from the pressures of work and daily stresses has become a mandatory habit and a true savior. Self-care days allow for a much-needed recharge and relaxation time, so you are set up to have an amazing week. Perfect your self-care ritual with Dermalogica's incredible range of body products.

Dermalogica Body Collection, featuring exquisite natural scents and innovative formulas with active botanicals, each product in the new collection is meant to invite a moment of quiet reflection as it delights the senses and delivers advanced ingredients for radiant, healthy-looking skin. Influenced by centuries of traditional bathing rituals, it also serves as an opportunity to restore balance and calm to your routine.
mindful body care for healthy skin
Phyto Replenish Body Oil (€57.00 – 125 ml)
replenish • calm • moisturize

Delicately scented featherweight body oil for glowing skin.
• French Plum Seed Oil, Avocado Oil and Sunflower Seed Oil help protect skin's lipid barrier.
• Calming Fermented Red Ginseng calms and nourishes to deliver glowing skin.
• Bergamot, Neroli, Orange, Patchouli and Sandalwood leave skin sode and delicately scented.                                                          
Thermafoliant Body Scrub (€47.50 – 177 ml)
exfoliate · energize · brighten
Dual-action, warming body exfoliant that energizes and smooths for radiant skin.
• Indian Bamboo Stem physically exfoliates to refine skin texture and brighten tone.
• Papain (from Papaya) and Lactic Acid dissolve dull, dead cells.
• Natural Sea Salt revitalizes and hydrates.
• A blend of replenishing bio-lipids helps to protect and strengthen skin barrier.
• Extracts of Licorice, White Tea, Coffeeberry and Chamomile infuse skin with vital antioxidants, while oils of Tea Tree and Grapefruit Peel purify and refresh.
Conditioning Body Wash (€32.50 – 295 ml)                                                         cleanse · condition · invigorate
Richly sensorial, skin-nourishing body wash cleanses, conditions and invigorates.
• Aromatic oils of French Rosemary and Chinese Eucalyptus alongside fresh Tea Tree and Lemon oils cleanses skin and awakens the senses.
• Pro-Vitamin B5 and tranquil Sandalwood, Lavender and Clary Sage smooth and condition.
Body Hydrating Cream (€35.00 – 295 ml
hydrate • smooth • tone

Nourishing cream features a worldly collection of essential oils for immediate, glowing hydration.
• Aromatic Orange Oil and Chinese Green Tea soothe and soften skin.
• French Lavender and Indonesian Patchouli oils calm the senses.
• Naturally derived Lactic Acid and hydroxy acid extracts from Cane Sugar and Apple smooth skin and relieve dryness.
Available from www.dermalogica.ie and all authorized Dermalogica stockists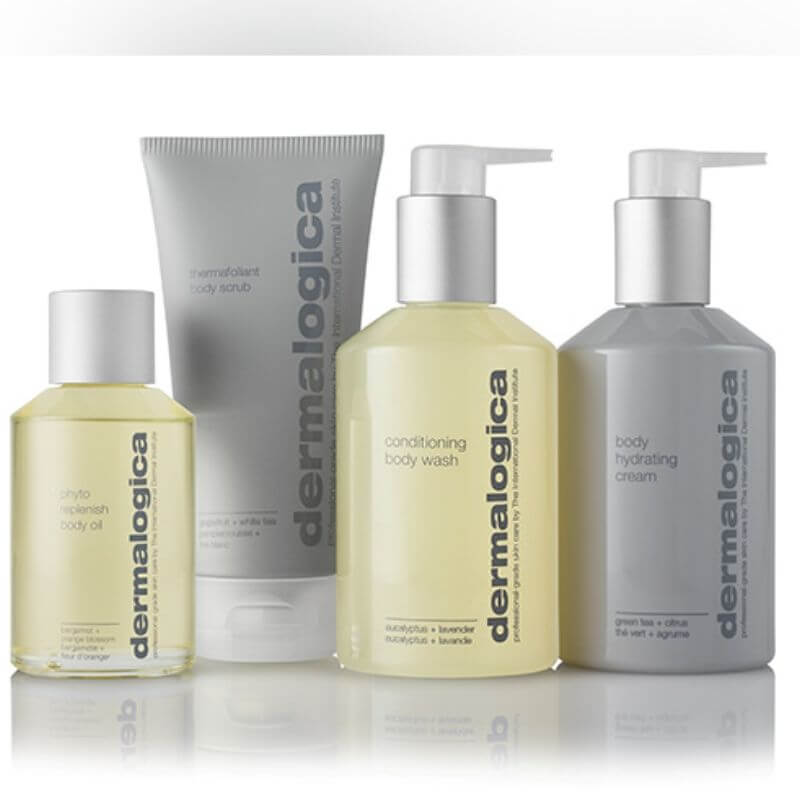 About Dermalogica
Dermalogica revolutionized the skin care industry when it emerged into the marketplace in 1986 with innovative formulations, which excluded common irritants, including SD alcohol, lanolin, mineral oil and artificial colors and fragrances. Jane Wurwand developed the products to better support the advanced curriculum she had developed a few years earlier for The International Dermal Institute, which she also founded. Wurwand led the company's growth from an idea to the world's most-requested professional skin care brand.
Dermalogica today is sold in more than 80 countries worldwide. Dermalogica products are available in select skin treatment centers on the recommendation of a qualified professional skin therapist in addition to the brand's concept spaces located around the world and online at Dermalogica.com. Dermalogica is made in the USA, with its global operations based in Carson, just south of Los Angeles. To learn more about Dermalogica, please visit dermalogica.ie
NEW: Dermalogica Active Clay Cleanser, a deep cleaning, non drying cleanser, perfect for post-home workouts, has finally arrived! Read more here!