Codex Beauty Labs, the plant-based biotech beauty brand, cult product is the perfect skincare saviour to get you through the cold winter months.
Dry skin in winter seems to be unavoidable, especially if you already have a sensitive complexion. As we know, eczema, rosacea, and psoriasis tend to flare-up in the colder months, when humidity levels and temperatures plummet, which can bring on red, flaky patches all over. Surviving the season is a lot easier with the right goods in your routine. Our Bia Collection is formulated here in Ireland—where braving harsh elements is part of the lifestyle—and packed with super hydrating plants.
Try Codex Beauty Labs Skin Saviour: Skin Superfood (75 ml / 2.5 fl. oz.)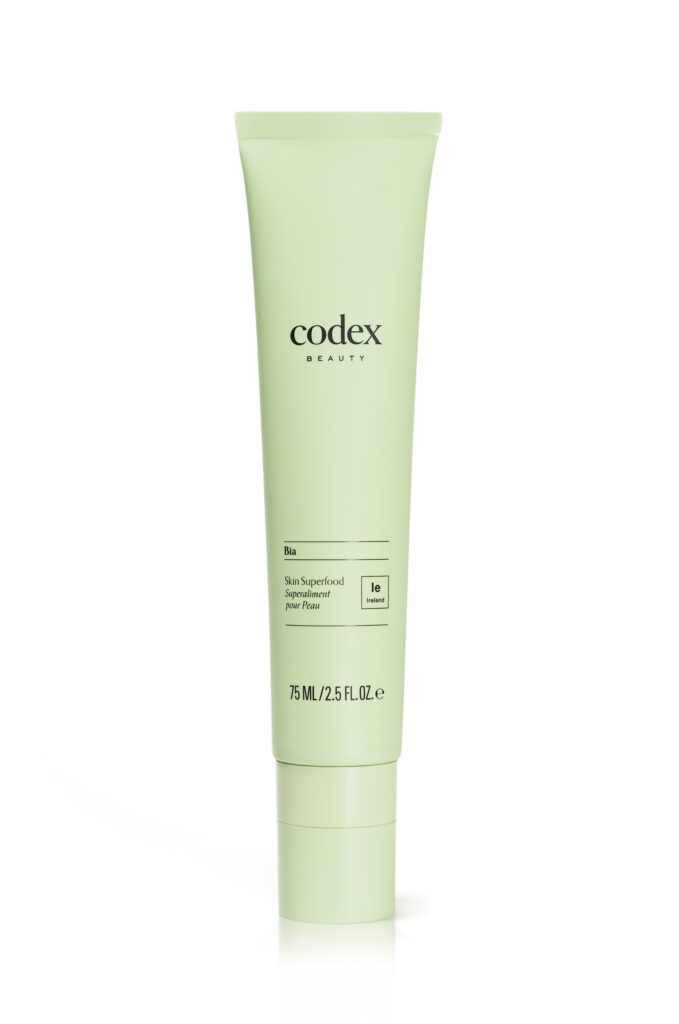 A rich, restoring cream that addresses skin hydration and moisture retention in distinct yet complementary ways. The Skin Superfood contains the patented, potent BiaComplex™ formula, designed to soothe dry skin, help shed the outer dry layers, moisturize, and retain the water by improving osmotic function and forming a protective surface film. This soothing cream for face, hands and body re-hydrates your skin and is clinically proven to soften, smooth, and promote a more even skin tone. Bia Hydrating Skin Superfood is designed for all skin types and is especially great for dry, flaky or itchy skin.
In self-assessments during clinical trials, users reported the following after using the Bia Hydrating Skin Superfood:
100% agree skin is moisturized, nourished, revived and more supple
97% agree skin is smoother
93% agree skin is softer.
All Codex Beauty Labs products are packed full of clinically proven effective ingredients that blend the science of plant biology with biotech innovations to leave skin feeling softer, smoother and more rejuvenated than ever before.
About Codex Beauty Labs
Founded in 2018 by Silicon Valley, Calif. entrepreneur Barb Paldus, PhD, Codex Beauty Labs is a biotech company, grounded in science, dedicated to supporting the microbiome, obsessed with sustainability, committed to biodiversity, and pioneering products having clinically proven, meaningful skincare benefits. Our mission is to blend the sciences of ethnobotany and plant biology with biotech innovations to create a new standard: plant-based biotech beauty.
Codex Beauty Labs Skin Superfood is available online at www.codexbeauty.ie
RRP €50
@codexbeauty