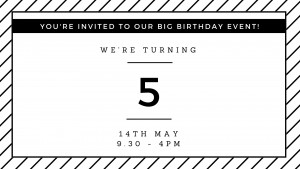 Happy 5th Birthday Sweet Squared! We are super excited to attend this birthday bash to celebrate Sweet Squared's 5th birthday!!
Open to: All nail & beauty professionals including therapists, nail techs, tanning techs, wax specialists, salon owners
Location: Unit 6 Western Business Park, Oak Road, Dublin 12
Don't Forget – All new accounts opened on the day who mention Beautiful Jobs will receive a complimentary gift with purchase!!