As the sun begins to shine, CND™introduces you to Prismatic.
California dreaming meets runway fashion this summer with CND™'s brand-new collection, Prismatic. Bold tones and primary colours come together to create a zesty tie-dye colour clash in five daring and dramatic shades. Inspired by the youthful energy of a rebellious summer, the Prismatic collection will rocket launch you in to the new season faster than ever. 

"Summer is all about the vivacious energy of long days, whether that's late nights in the city or the hottest vacation trips, it's always filled with that sense of adventure," said CND™ Co-Founder and Style Director Jan Arnold. "Our goal with this collection was to provide everyone with the perfect polish palette to their summer wardrobe. 
 The Prismatic collection (pictured below) comprises of; bold and dynamic 'Ultraviolet', swimming-pool blue 'Dimensional', urban 'Psychedelic',sweet shop 'Holographic, and emerald 'Aura.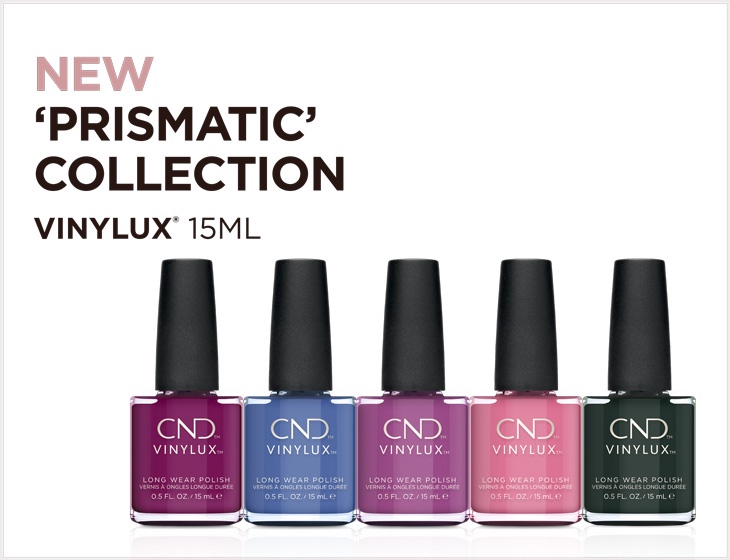 Available in selected shades in CND™ SHELLAC™ and all shades in CND™ VINYLUX™it's your time to ride freely into summer.
VINYLUX WEEKLY POLISH: 
FEATURED BENEFITS: Delivers 7-day wear, chip-resistant and a fast-drying colour, 2-step application; VINYLUX™ Weekly Top Coat features a Caring Complex of Keratin, Jojoba Oil and Vitamin E and Italian-designed, ergonomic brush for precise application. 
AVAILABLE IN ALL 5 SHADES.
RRP: €14.95
AVAILABLE JUNE 2019
To find your local stockist, please visit  www.lovecnd.com