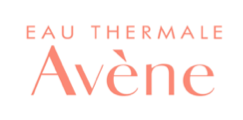 Expert Sun Care All Skin Will Love
For 30 years, French skincare brand, Eau Thermale Avène, has been on a mission to protect skin. This summer, Avène is excited to announce an update to its extensive, award-winning sun care portfolio with two new additions to the range.
The two new products, which both offer a unique 3-in-1 action, are suitable for sensitive skin. They are the Very High Protection Anti-Aging SPF50+ Tinted and the Very High Protection Cleanance SPF50+ Tinted for oily and blemish-prone skin.
Each product contains the expertly formulated, patented Avène SunSitive protection®. Its photoprotective complex offers effective, stable and long-lasting protection against UVA and UVB rays. The unique formulas also contain a powerful antioxidant complex – Pre-Tocopheryl, a vitamin E precursor, and Thialidine which protect the skin cells from free radicals.
The water-resistant formula in each of the products is both hypoallergenic and non-comedogenic and is rich in naturally soothing Avène Thermal Spring Water to ensure sensitive skin is calmed and protected throughout the day.
Dr. Laura Lenihan, Avène's new suncare brand ambassador, speaks about SPF, "It's so important to wear SPF daily for a number of reasons. The first being to protect ourselves against skin cancer. Did you know the incidence of skin cancers in Ireland is increasing all the time? Avène's range of SPF's contain a patented filter system which offers four unique sun filters which offer broad spectrum UVA and UVB protection. The second reason is to protect our skin against the signs of ageing. This is one of the reasons I love these two new products from Avène, as they contain powerful antioxidants which will protect the skin from free radicals, all while helping to reduce the signs of sun damage and ageing. They also contain Avène Thermal Spring Water which means they can be used on even the most sensitive skin.
For me, they slot into my skincare regime fantastically and as they have a lovely tinted sheen, I can wear them on down days instead of my foundation. Alternatively, they work amazingly well as a primer under my usual make-up routine. Both are factor 50+ so I know I am fully protected. And finally, to note, these formulas are ocean friendly too, so I know I'm not harming coral reefs in my suncare choices! Don't forget that ideally we should be reapplying our SPF every 2 hours especially if we are out in the sun even in Ireland!"
Very High Protection Anti-Ageing SPF50+ Tinted €23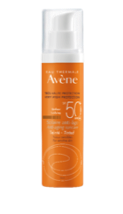 Avène's new tinted anti-ageing SPF is a comprehensive wonder cream for mature skin offering an unprecedented 3-in-1 action. This light formula works to protect against the harmful effects of the sun, prevents the signs of photo-induced aging, all while evening out and brightening the complexion. The illuminating cream, which glides onto the skin, offers a 'nude feel' texture and leaves an invisible subtle powdered finish on the face and neck.
Enriched with Ascofilline™, a restructuring anti-aging ingredient which boosts collagen synthesis, this new hero cream for Avène offers incredible protection while its photostable Vitamin C and reflective pigments, evens out the skin adding light and radiance.
Very High Protection Cleanance SPF50+ Tinted €21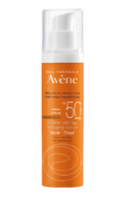 Specially formulated for oily skin, the Avène Cleanance tinted sunscreen SPF50+ also offers an unprecedented 3-in-1 action for consumers. Developed for blemish-prone skin this ultra-light cream protects against the harmful effects of the sun, provides an immediate and long-lasting anti-shine effect and enhances the skin's complexion.
The fluid texture, which will not aggravate problem skin or blemishes, is easily applied to the skin without leaving a greasy or sticky finish and results in a beautiful matte finish. Thanks to added reflective pigments, skin appears glowing and even.
Avène's Skin Protect Ocean Respect campaign is the brand's eco-friendly approach to protecting skin while also respecting the ocean. This means that the products which are silicone free and contain minimal sun filters are gentle on skin and on the marine environment, including coral and plankton (the green lungs of the planet).
Avène products are available from pharmacies nationwide and online at www.boots.ie.