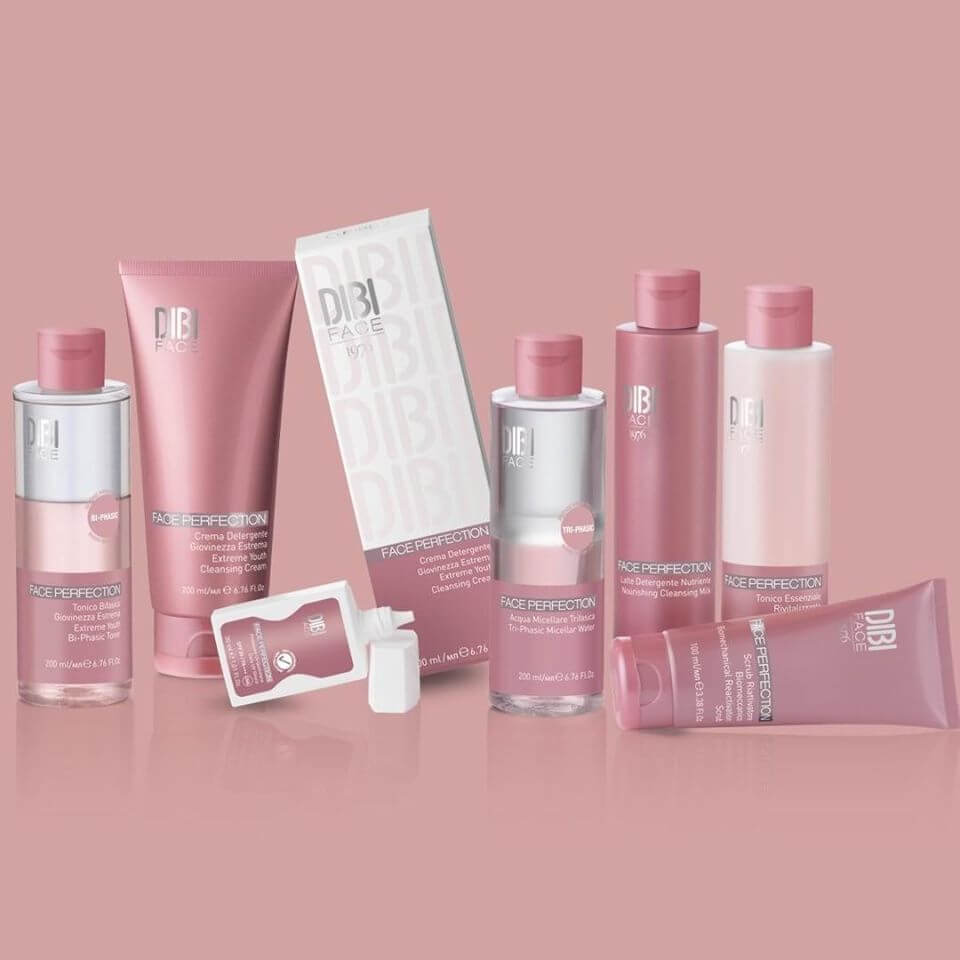 The Future Of Beauty Begins With Cleansing… FACE PERFECTION Cleanses, Renews And Perfects. DIBI MILANO, Italy's number one professional skincare brand, has renewed and enhanced its FACE PERFECTION cleansing and preparation range for all skin types with the introduction of new consumer and professional products, with new formulations and new sizes.
Facial cleansing is becoming the most important part of any beauty treatment. As well as removing impurities, if carried out correctly, cleansing eliminates toxins and frees pores clogged by smog, dust, and make-up, which prevent the correct tissue oxygenation and prepares the skin to better receive any subsequent treatments they don't have to penetrate through a layer of impurities. DIBI MILANO has identified three key stages in facial cleansing: cleansing, regenerating and refreshing and, in response, has developed cleansing milk/creams, an exfoliating cream scrub, and toners for home use and a restorative cleansing mask treatment and enzyme cosmetic peeling treatment for the beauty professional in a salon setting. FACE PERFECTION's new fragrance is a delicate freesia with citrusy grapefruit touches with green accents and soft mossy trails: Green notes, Grapefruit, Fresia, Cedar wood, and Musk.
Metagenomics is the science that studies the skin flora, i.e. the upper layer of the skin, considering it essential for its natural beauty.  DIBI MILANO laboratories are exploring the world of probiotics, whose literal meaning is 'in favor of life'.  Probiotics make up the microbiota which is of fundamental importance for our skin. It is a valuable protection system which helps to keep the immune defense system healthy and strong to effectively protect itself from external aggressions such as stress, irregular lifestyles and poor diet, it also helps the skin to renew itself.  
"The next generation of skin care products is being created based on friendly bacteria 'Probiotics'. Face Perfection's goal is to keep the skin balanced by strengthening its immune defenses and clearing up skin problems like acne, rosacea, eczema and premature ageing. Face Perfection has you covered with all your favourite anti-ageing ingredients like Retinol, Hyaluronic Acid and Probiotics", said Andrea O'Donnell, National Educator, Xpert Professional.
The FACE PERFECTION cosmeceutical range is clinically-proven, individually tailored and scientifically prescribed by an experienced beauty therapist in a professional salon setting.
The individually tailored, diagnostic approach that is central to DIBI MILANO's method begins with a skin diagnosis, carried out by a qualified therapist using the MDB Analyzer, which is a technologically advanced customized analysis system for the detection of facial and body imperfections. It uses a dual detection system, Bio-Impedance Meter and Ultrasound.
The results-driven DIBI MILANO FACE PERFECTION range uses a synergy of active ingredients: Lacto-Probiotic, Porcelain Flower and a plant-based Hyaluronic Acid from the Alexandrian senna.
The renewed FACE PERFECTION range now comprises of seven home care products:
NOURISHING CLEANSING MILK-This is a soft milk to cleanse all skin types, removing make-up and impurities from the face, eyes, neck, and décolletage resulting in instantly clean, soft and satin skin.
TRI-PHASIC MICELLAR WATER-This is a tri-phase solution with micellar technology, which captures any impurities, long-lasting and waterproof make-up. It is fragrance free and is suitable for sensitive eyes and contact lens wearers leaving the skin clean, recharged and energised.
REVITALIZING ESSENTIAL TONER-A fast-absorbing toner which is perfect for all skin types. It restarts the skin's hydration process, strengthening its barrier function and revitalising the tissues, giving the face a more radiant, refreshed, awakened appearance with a smooth and velvety complexion.
BIOMECHANICAL REACTIVATOR SCRUB -This is an exfoliator cream that acts on two levels: stimulating cell renewal deep down and, on the surface, promoting the detachment of weakened cells and eliminating all types of impurities. It is formulated with: Jojoba Spheres, which dissolve through massage, softening the skin, and Silica, which ensures intense exfoliation resulting in more receptive, soft skin with a refined texture, which is ready to receive any subsequent treatments.
EXTREME YOUTH CLEANSING CREAM-This is a cleansing cream with a soft texture that removes impurities and make-up residue extremely gently. It is specially formulated for more demanding skin and is a real beauty treatment for the face. The skin is completely cleaned, protected and nourished.
EXTREME YOUTH BI-PHASIC TONER-This bi-phasic toner gives the skin an instant sensation of freshness and completes a daily cleansing routine. It provides a real vitality boost – even for the most demanding skin types and gives an instant radiant, perfectly toned complexion.
DAILY UV SHIELD SPF– A genuine youth-enhancing shield that protects the skin from environmental stress caused by pollution, UVA and UVB rays.