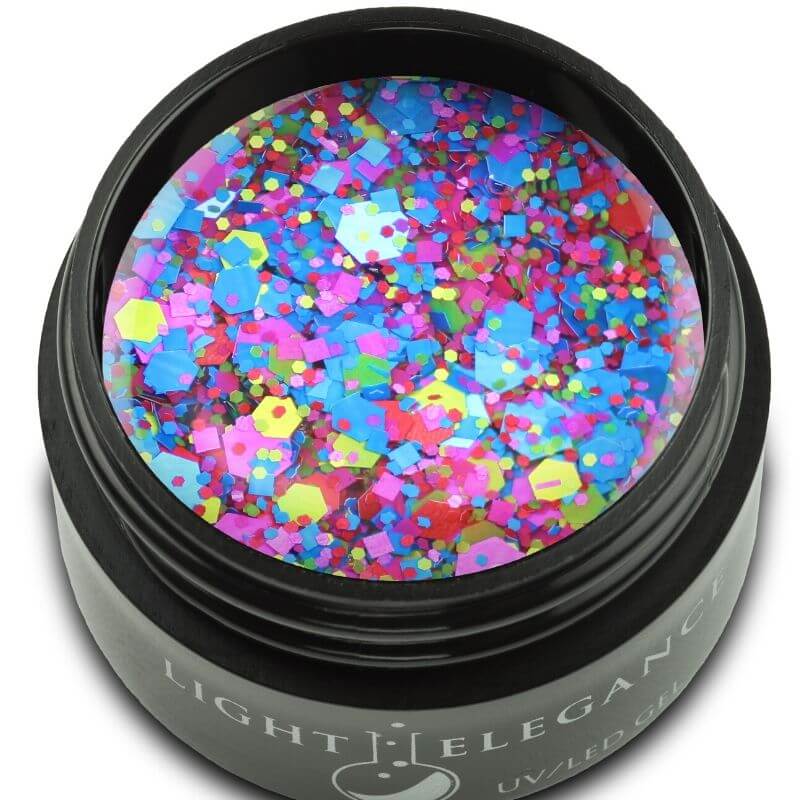 Prepare for fresh, juicy styles this summer with Summer Squeeze, the brand new Summer 2020Color& Glitter Gel collection from Light Elegance. On-trend for summer with bold, bright shades, Summer Squeeze is inspired by the fresh colours and textures found in the fruit we all love. Let the 12 new shades take you on a journey through a delicious palette of fruity creams, succulent shimmers, and enticing glitters that will squeeze every drop out of your summer style.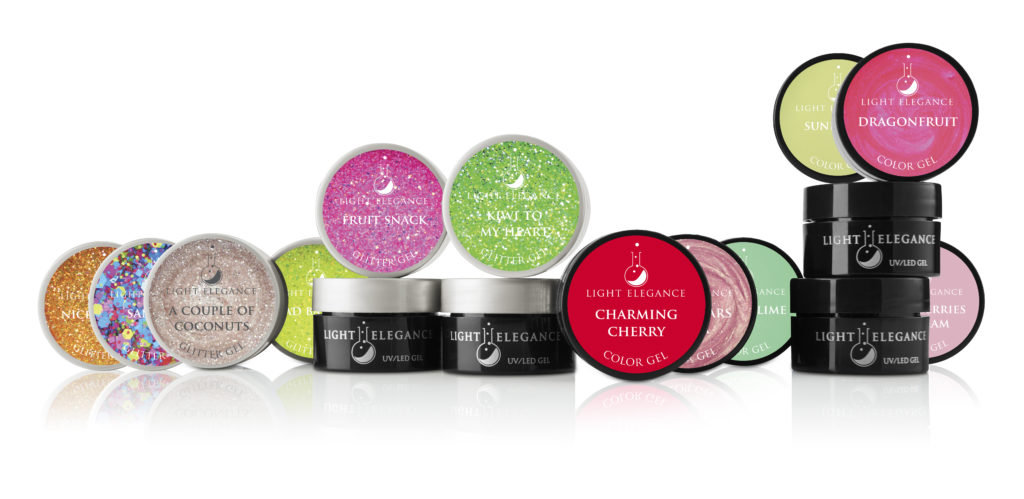 COLOR DESCRIPTIONS
Charming Cherry: A luscious vibrant red-pink coral cream. This colour leans more towards the coral family. Bold, bright and charming for any look! Coverage: Opaque, Effect: Flat/Cream
Devil Wears Guava: A guava pink with bronzed shimmer throughout. The light captures this bronze shimmer and makes this pink truly dance. Coverage: Opaque, Effect: Shimmer
Dragonfruit: A translucent, hot watermelon pink with an elegant touch of shimmer. Perfect for adding a water colour effect to your style. Coverage: Opaque, Effect: Shimmer
Strawberries & Cream: A soft and sweet baby pink with a touch of elegant shimmer. Coverage: Opaque, Effect: Shimmer
Sublime Lime: An electric green mixed with bright white makes for a fun pastel neon that truly pops. Coverage: Opaque, Effect: Shimmer
Sunkissed: A soft, baby yellow with a lot of white for rich, opaque coverage that allows even this soft yellow to make a statement this season. Coverage: Opaque, Effect: Flat/Cream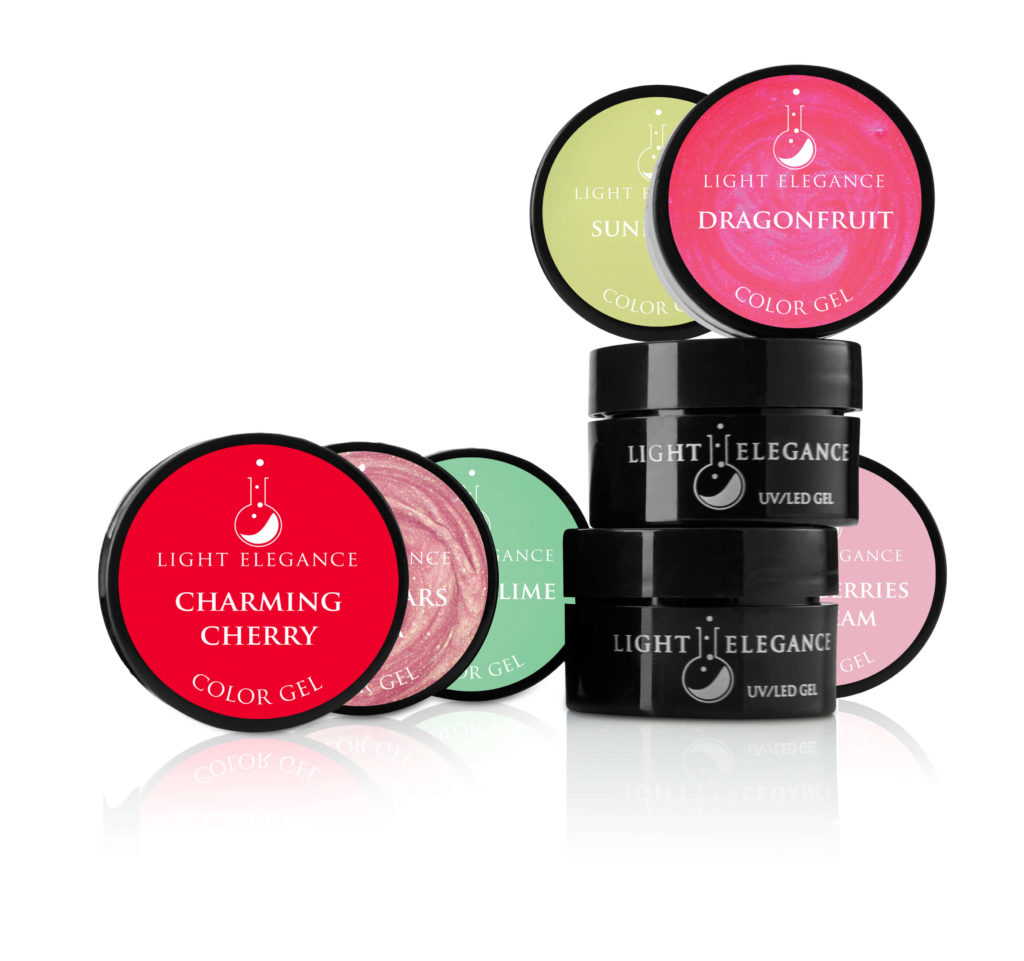 GLITTER DESCRIPTIONS
A Couple of Coconuts: Tiny silver and crystal glitter in a neutral beige pink base. A full-coverage soft and sweet glitter gel. Coverage: Opaque, Effect: Glitter
Bad Banana: An electric, neon-yellow glitter that is lightly sprinkled with flashes of amber throughout featuring great coverage! Coverage: Opaque, Effect: Glitter
Fruit Snacks: A hot-pink foundation is the perfect background for these flashes of amber. Flashes of amber and pink glitter twinkle throughout this neon glitter gel. Coverage: Opaque, Effect: Glitter
Kiwi to My Heart: A lime green glitter gel that is sprinkled with chartreuse popping glitter. Coverage: Transparent/Sheer, Effect: Glitter
Nice Melons: This fiery glitter gel has flashes of orange, yellow, and peach. It's as hot and bright as the flame of a fire! Coverage: Opaque, Effect: Glitter
Sangria: A mixture of sizes in pearl glitter in the colours of Caribbean blue, hot pink, chartreuse and bright red create a bright and unique look. Apply over any LE colour for a graffiti-like look allowing for no limit of fun and creativity! Coverage: Semi-Opaque/Semi-Sheer, Effect: Glitter.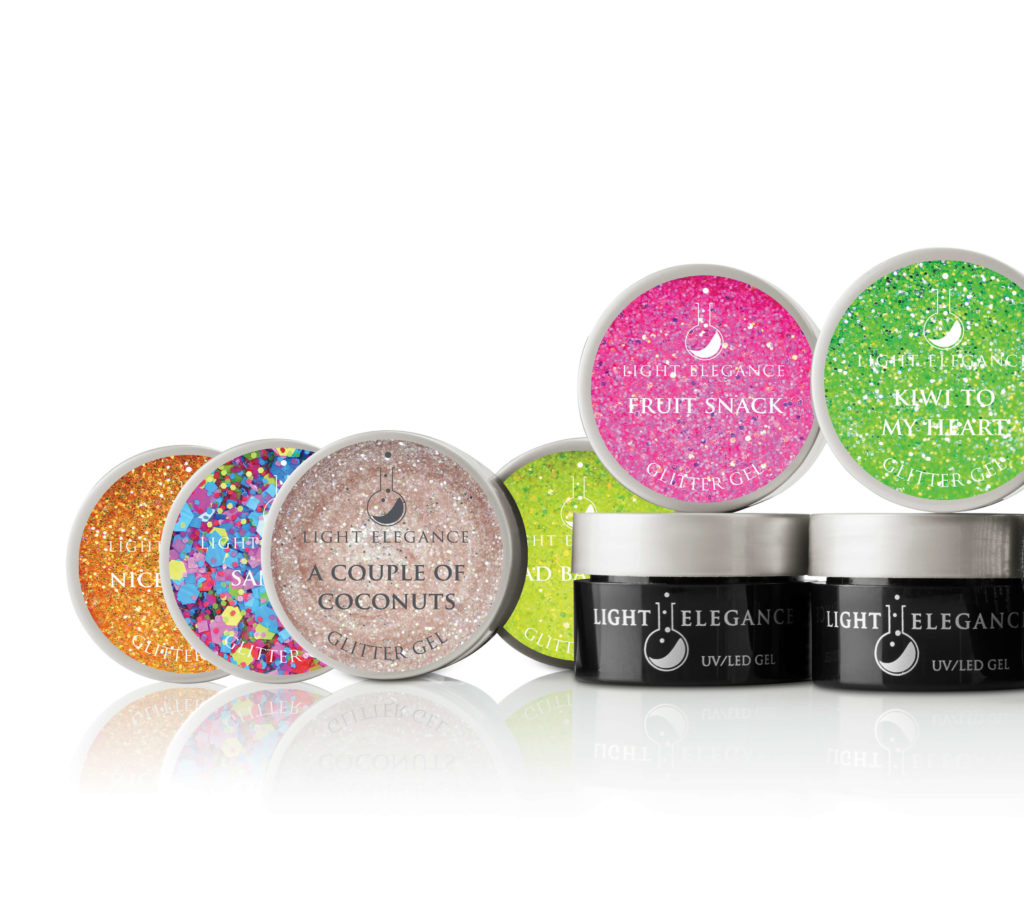 "Summer Squeeze was dreamt up by the LE colour team to add bold, bright flavour to any look— right on-trend for summer. The palette is inspired by the wide variety of fresh, vibrant colours and textures that make us all love a great piece of fruit. We know that nail professionals will be as inspired by these shades as we were creating them, and the possibilities for creating summer styles and nail art are as juicy and delicious as the beautiful fruit nature provides us. Enjoy, and we can't wait to see what you create!"Lezlie McConnell, Light Elegance Co-Owner and Color Mother

TRADE PRICE: FULL COLOR OR GLITTER COLLECTION£88.95/€99.95 EACH INDIVIDUAL SHADES:£18.95/€21.45 EACH
AVAILABLE INDIVIDUALLY OR AS A COLLECTION FROM 2ND MAY.
Visit Sweet Squared to find out more. @SweetSquaredIreland