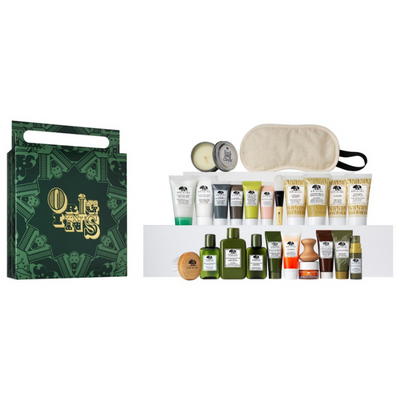 Launching 22nd September for VIPs and 27th September Nationwide
Step inside the Origins Fun House and prepare to be entertained, surprised and delighted as you discover perfect, feel-good gifts for everyone –and get everything you need to look good and feel good this festive season!
Discover our 24 day advent calendar worth £164/€204 (RRP of £99/€122) as our most epic set of the season with 24 skin and body care must-haves to gift the skincare beginner and pro alike.
What's Included?
Mega-Mushroom Soothing Treatment Lotion – 50ml bottle
Checks & Balances Frothy Face Wash 30 ml tube
Ginger Soufflé™ Whipped Body Cream 30 ml tube
Checks & Balances Face Scrub 30ml tube
Mega-Mushroom Emulsion 30ml bottle
GINGER Hand Cream 30ml tube
GINGER Body Wash 30ml tube
Ginger Incredible Spreadable Body Scrub 30ml tube
Mega-Mushroom Micellar Water 30ml bottle
Clear Improvement Active Charcoal Mask – 15ml tube
Clear Improvement Charcoal Honey Mask 15ml tube
Drink Up Intensive Overnight Mask 15ml tube
Original Skin Retexturising Mask 15ml tube
High Potency Night A Mins 15ml tube
Mega-Mushroom Soothing Face Cream 15ml tube
Plantscription Anti-Aging Eye Cream – 5ml pump
Plantscription Serum 15ml tube
Small Ginger Candle
Ginzing Into The Glow Brightening Serum 15 ml tube
GinZing Refreshing Eye Cream to Brighten and De-Puff 5ml Jar
Cleansing Face Brush
Mask Brush
Face Dry Bake Sponge
Wood Eye Massage Tool