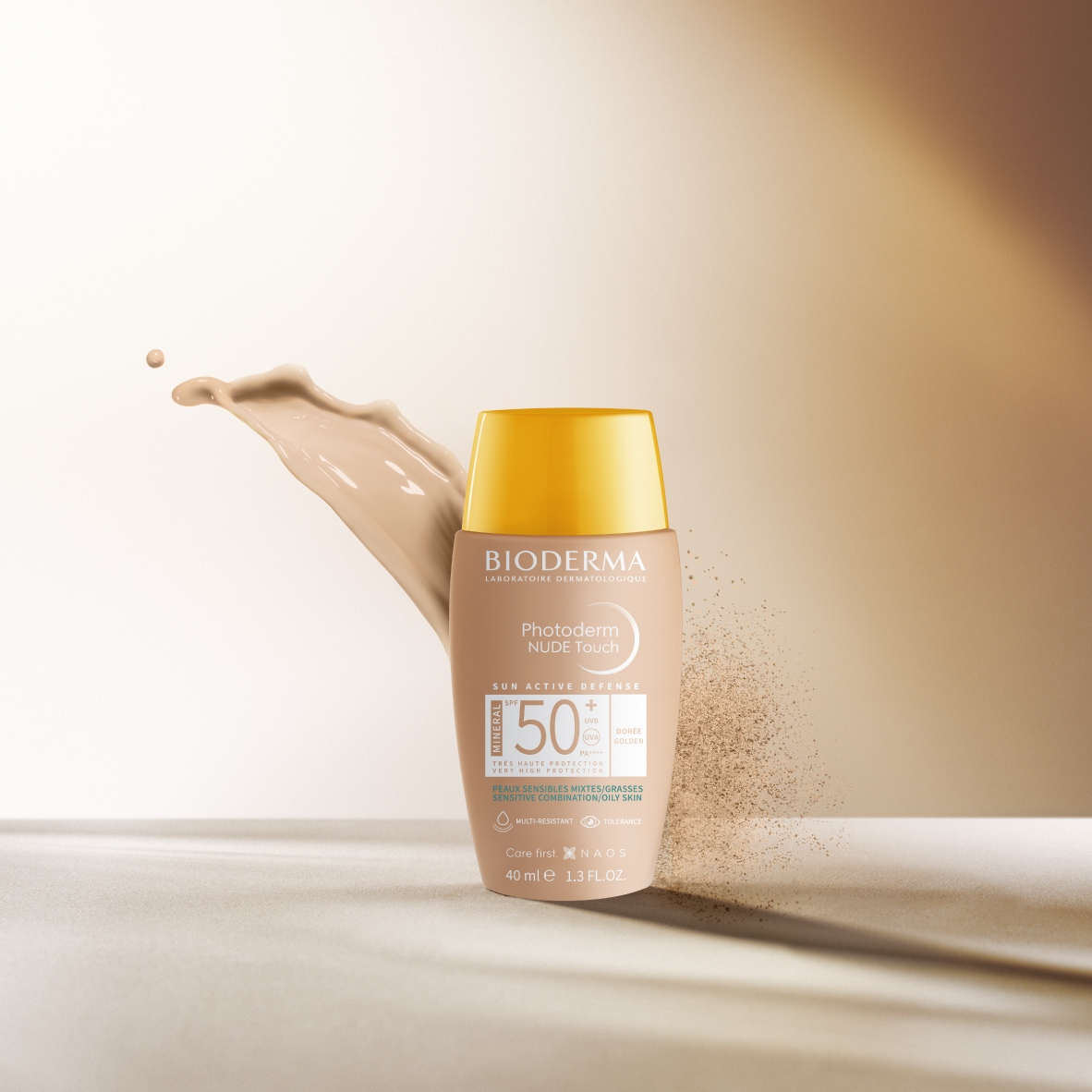 INTRODUCING: BIODERMA Photoderm Nude Touch Mineral SPF 50+, bare skin effect mineral sun care with the benefits of skincare.
Summer is almost in sight but that doesn't mean waiting around for the sun to shine before you protect your skin. Although SPF is historically associated with sunny weather, the importance of protecting skin from harmful UV rays throughout the year is something that has been heralded by skin experts for some time now.
An effective SPF is the ultimate skincare necessity to protect against skin damage, skin cancer and signs of ageing, but different skin types require different formulas.
BIODERMA's Photoderm Nude Touch Mineral SPF 50+ is the latest sun care innovation by the brand. Tailored to suit combination to oily skin, Photoderm Nude Touch Mineral SPF50+ provides a sheer, bare-skin effect while protecting skin and improving skin texture.
Combination to oily skin can be prone to blemishes such as dark spots, marks or red spots. When exposed to the sun, these skin disorders can become aggravated. Dark spots appear even darker, pores are more visible, and red spots return in full swing.
Photoderm Nude Touch Mineral SPF50+ gives a bare skin effect while protecting skin and smoothing and reducing the appearance of imperfections. After 21 days of use, 71% of people found imperfections were reduced* and marks such as acne scars were reduced after 28 days of use.**
The ultra-light tinted formula is available in two sheer-shades and it is the perfect everyday base for make-up. Light on the skin and natural looking, it matches perfectly with the skin in only 30 seconds.
With a unique combination of active ingredients, BIODERMA's latest Photoderm product boasts three exclusive skincare technologies to not only protect, but also to improve the skin.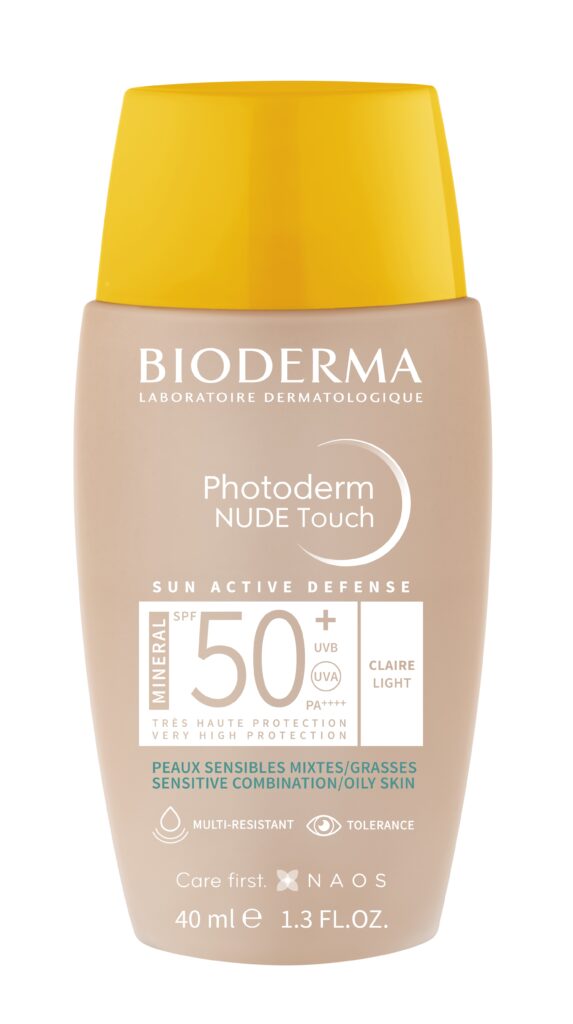 1.SUN ACTIVE DEFNESE: Protecting against UVB and UVA rays and visible light with 100% mineral sunscreens. BIODERMA's SUN ACTIVE DEFENSE reinforces the skin's self-defence abilities against the biological impacts of UVA. By combining UV filters and a patented biological protection, it improves the capacity of the skin to defend itself and help maintain long-lasting care of its health in the sun.

2.LIQUID TO POWDER Technology: The smooth application allows pigments and filters to be evenly spread across the skin for a perfectly protected, even complexion while hydrating agents penetrate the superficial layers of the skin, making way for an anti-shine action with a powdery, matte finish.
3.FLUIDACTIV™: This unique patent combined with Capryloyl Glycine regulates sebum production and prevents the appearance of imperfections. The addition of salicylic acid helps to smooth the skin's texture and boost complexion radiance.
BIODERMA supports THE SKIN CANCER FOUNDATION's @SkinCancerOrg mission to educate the public about daily sun protection, early detection of skin cancer, treatment of skin cancer.
BIODERMA's Photoderm range proudly bears the Ocean Care logo. BIODERMA is mindful of the impact on all aquatic ecosystems, meticulously selecting ingredients to minimise any impact on the environment while also supporting initiatives for the protection of marine environments.
With products to suit all skin types, BIODERMA's Photoderm range is the only filter you need in your arsenal this summer to stay protected and sun ready.
*Usage test on 36 volunteers aged 19 to 62 with sensitive and combination to oily skin, for 21 days.
**Evaluation on efficacy on skin blemishes on 20 volunteers aged 24 to 43 with combination to oily skin with mild to moderate acne on the face, for 28 days.
Photoderm Nude Touch Mineral SPF 50+ is priced at €19.00 and available from pharmacies nationwide.
Website: www.bioderma.ie @biodermaie