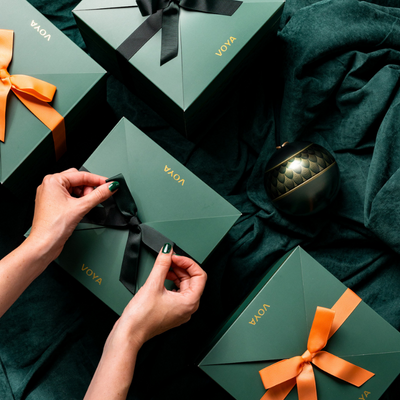 STOCKING FILLERS
 SEASONAL SPICED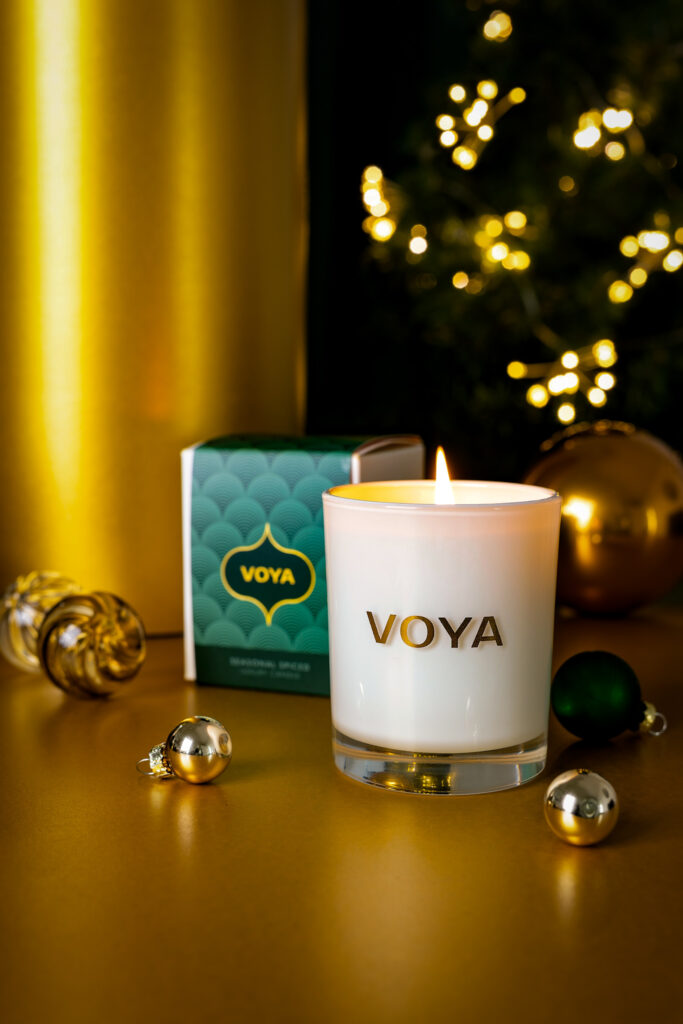 LUXURY CANDLE 
VOYA's limited edition Seasonal Spiced Candle has a wonderfully festive fragrance that boasts both decadence and warmth. A dominant aroma of sweet orange and spicy cinnamon is smoothly balanced by earthy clove and deep woody undertones. This natural wax candle is of exceptional quality, made with a rapeseed oil blend. Burn Time: 30 hrs
€35 /£32 (RRP)
DECK THE HALLS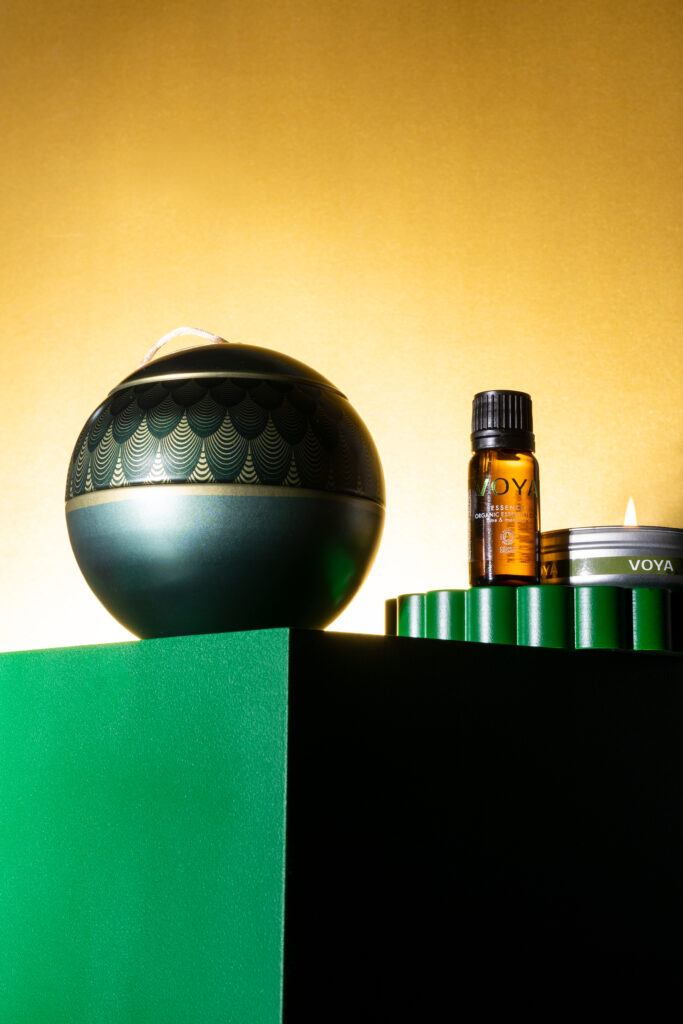 FESTIVE WELLBEING BAUBLE 
This beautifully designed Christmas bauble contains a luxury travel candle and our iconic 100% organic Essence essential oil. Give the gift of wellbeing to a loved one and allow them to experience VOYA's original scents of citrusy sea. For the ultimate  spa at home experience, add Essence Oil drops to a bath light the candle and drift away. €34 / £30 (RRP) 
SPARKLE & SHINE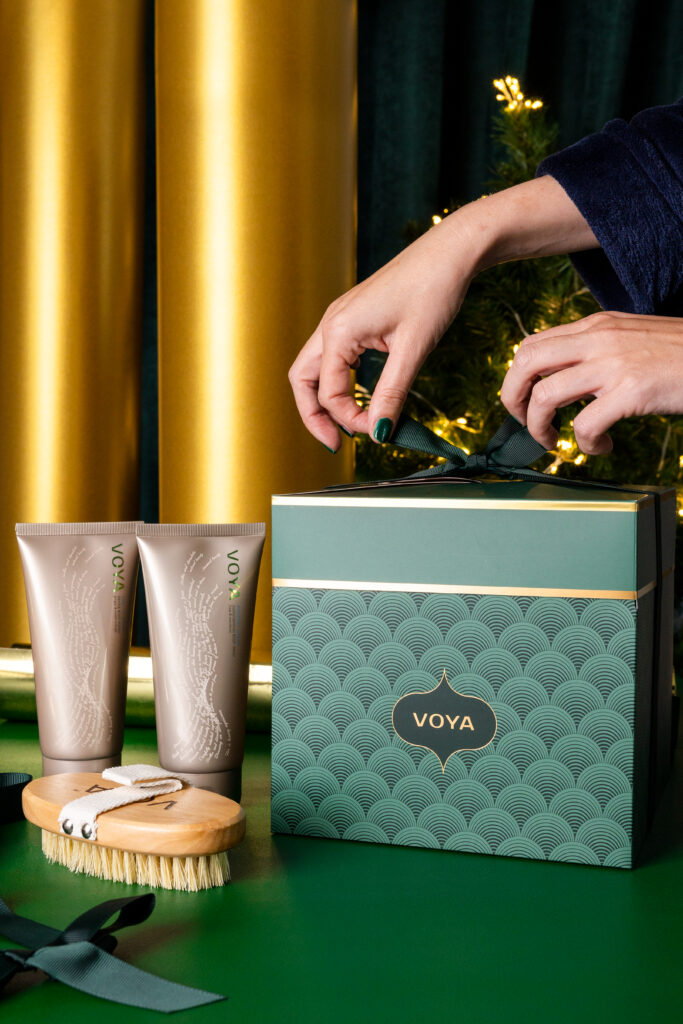 THE ULTIMATE BODY CLEANSING GIFT SET 
Whether you are getting party prepped or having an at home spa session, VOYA's Ultimate Body Cleansing Set is your perfect companion. Envelop yourself in the beautiful scents and experience the therapeutic effects of the wild oceanic ingredients.
Our award-winning Squeaky-Clean invigorating body wash is an intense infusion of zesty Lime and rejuvenating Mandarin. It is blended with the natural purifying properties of wild organic seaweed extract and leaves the skin feeling clean, fresh, and revived. 
Time to Shine is our gentle exfoliating body polish infused with uplifting Ginger and notes of Sweet Orange. It uses finely ground walnut shells to buff away dead skin, whilst Jojoba oil, Shea, Cocoa and seaweed extract enhance the skin's natural elasticity and leave your body feeling luxuriously smooth and silky. 
VOYA's Exfoliating Body Brush made with Cactus Bristles comes with an Organic Cotton Pouch. It allows you to dry brush and exfoliate your body gently yet effectively. It removes dry skin cells whilst stimulating the skin to leave it looking renewed and radiant. RRP €52 / £47 WORTH €77/ £66 
COMFORT & JOY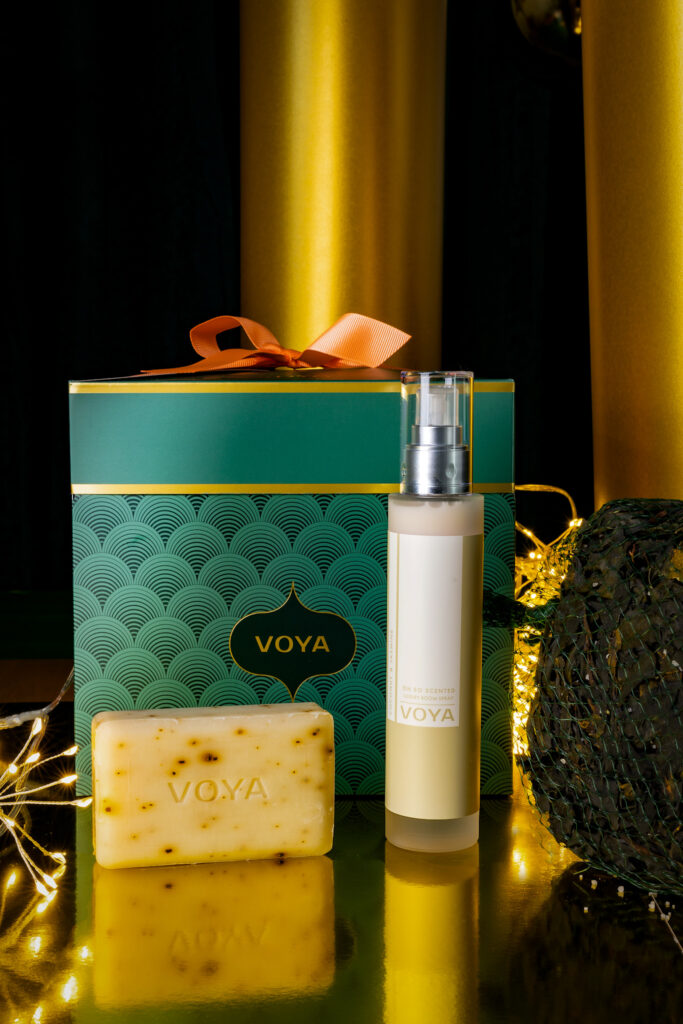 LUXURY BATHING GIFT SET 
Indulge in the ultimate self-care ritual and experience the ancient Irish tradition of seaweed bathing at home. Envelop your body in the silky fronds of hand harvested Atlantic Ocean seaweed, cleanse your body with our iconic seaweed soap bar whilst it's uplifting scent of Spearmint and Rosemary calms you and give your home a relaxing and festive scent with our room spray.
VOYA's hero product, Lazy Days seaweed bath, is the 
ultimate spa at home experience. Once submerged in water, seaweed naturally rehydrates and releases its soothing and moisturising properties whilst assisting to detoxify the body.
Our award-winning Invigorating seaweed soap bar has been formulated to leave your skin feeling smooth and soft. It contains flakes of organic seaweed and has an intensely beautiful scent of Spearmint and Rosemary. 
VOYA's Room Spray offers a scent that is smooth, relaxing and luxurious with a rich core that boosts notes of rich Jasmine and festive Orange infused with smooth Vanilla and Coconut. A twist of spiced Amber will soothe and comfort the soul. VOYA's 100% natural luxury room sprays are kind to you, your home and the earth. €54/ £48 (RRP) WORTH €68/ £59