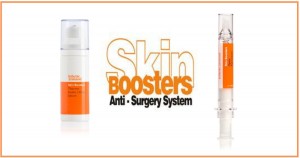 Briege in the BeautifulJobs Office is a thirty-year-old who has recently been on a vigorous skin care journey seeking an overall youthful, and radiant complexion. Here is her evaluation on her 4 week trial of using Skin Boosters THAVMA HYDRA LIFTING SERUM and SKIN BOOSTERS OPSIS EYE GEL.
If anyone ever looked at my Google search history they would find "how to get rid of my wrinkles, "how to talk without making so many expressions", "how much is botox", "best skincare for aging 30-year-old" "I am 31 and look 51 help"… the list goes on.  For the last 8 years, I have struggled with low self-esteem due to my profound forehead wrinkles or as I refer to them as the newspaper with the crinkling of my countless lines.  I have tried and tested many brands, made various appointments for skin peels in hopes to reserve the damage.  Although some products give an instant result, I have found it wears off and my skin looks like it has fallen off the shelf again.
As my continuous search for the angelic skin that dreams are made of, I was given the opportunity to try the Skin Boosters THAVMA HYDRA LIFTING SERUM and SKIN BOOSTERS OPSIS EYE GEL. What I learned about these powerhouse products really wowed me! I tried both products for 4 weeks and the results not only saved me a trip to a plastic surgeon but restored my confidence. THAVMA HYDRA LIFTING SERUM is an intense anti-wrinkle serum that targets and corrects wrinkles caused by facial muscle contractions. Music to my ears!  I applied only 1ml of the lightweight formula at night before bed and in the morning. Skin BOOSTERS OPSIS EYE GEL refreshes and reduces dark circles and fine lines. The gel was really pleasant and therapeutic to use. I massaged the tip of the specialty design applicator around my eyes every night for 4 weeks.
From the first week, I noticed my skin actually looking brighter and healthier.
On week 2, I found my skin overall felt very smooth and I received compliments from friends commenting on how nice my skin looked! THIS WAS A FIRST FOR ME.  I also started to notice the dark circles under my eyes were fading and that my skin looked really moisturized.
During week 3, I noticed my skin feeling firmer, and my pronounced lines were reduced. I also noticed plumpness in my skin my eyes also looked brighter and less puffy.
Week 4. I can honestly contest that my wrinkles were significantly reduced.  This is the best skincare miracle you will fine. My skin looks completely rehydrated, healthier and YOUNGER! The HAVMA HYDRA LIFTING SERUM is the OG of serums. Now I might not have conquered talking without making serious expressions, but I have found the cure for my "newspaper forehead".  I can finally love the skin I am in.
Skin Boosters THAVMA HYDRA LIFTING SERUM,  and SKIN BOOSTERS OPSIS EYE GEL can be purchased here.