Protect your skin this summer with award winning SPFs from Avène
Expert sun care all skin will love
Eau Thermale Avène is renowned for its high-performing skincare, and its sun care range is no different. SPF is an important step in daily skin safety and Avène has a wide range of sun care with benefits, to complement all skin types.
Avène's extensive, award-winning sun care portfolio includes 2 high protection mineral fluids, a sports sun cream, a city shield BB-style high protection face cream, body sprays and a children's sun cream. The brand also has SPFs that cater to people with blemish prone or oily skin or people looking to tackle signs of aging with their daily SPF.
Each product contains the expertly formulated, patented Avène SunSitive protection®. Its photoprotective complex offers effective, stable and long-lasting protection against UVA and UVB rays. The unique formulas also contain a powerful antioxidant complex – Pre-Tocopheryl, a vitamin E precursor, and Thialidine which protect the skin cells from free radicals. The water-resistant formula in each of the products is both hypoallergenic and non-comedogenic and is rich in naturally soothing Avène Thermal Spring Water to ensure sensitive skin is calmed and protected throughout the day.
Avène's Skin Protect Ocean Respect campaign is the brand's eco-friendly approach to protecting skin while also respecting the ocean. This means that the products which are silicone free and contain minimal sun filters are gentle on skin and on the marine environment, including coral and plankton (the green lungs of the planet).
Tinted Mineral Fluid SPF 50+ €21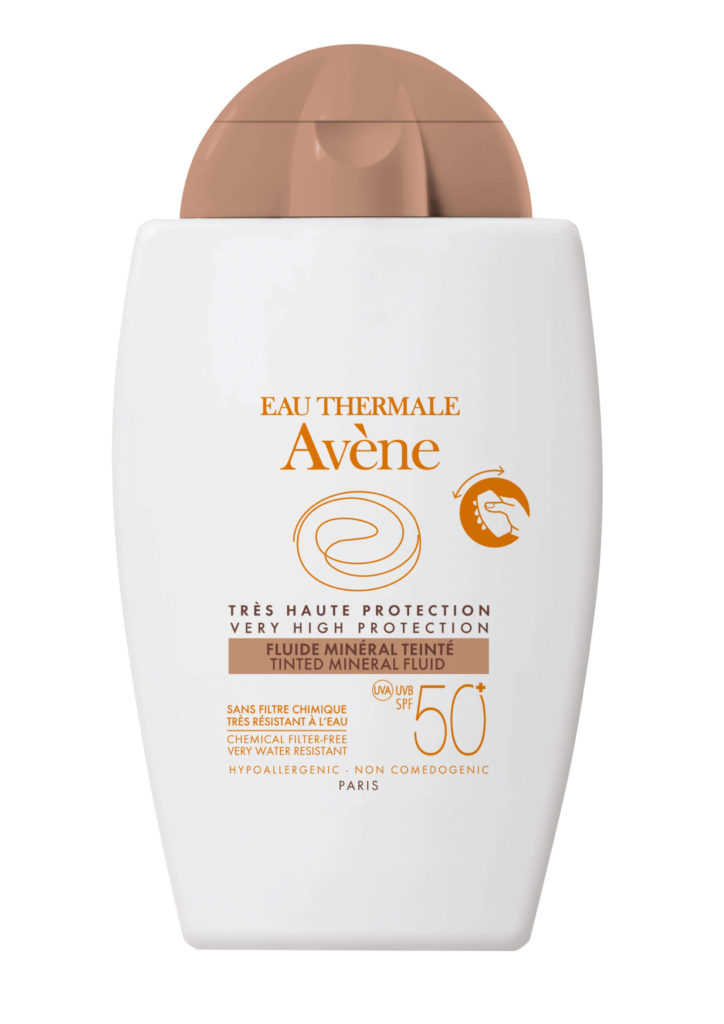 Not many people know that it's vital, even in Ireland, to wear SPF every day. Every. Single. Day! So, it's important that our products work for us and provide dual actions. Avène's Tinted Mineral Fluid SPF 50+ is a light, tinted matt-finish sun care fluid which offers high protection while leaving a beautiful glow on the skin. Formulated using only mineral based filters, this wonder product provides optimum protection for even the most sensitive skin. It's pocket size too, so an ideal travel companion. Also comes in non-tinted formula.
B-Protect SPF 50+ €17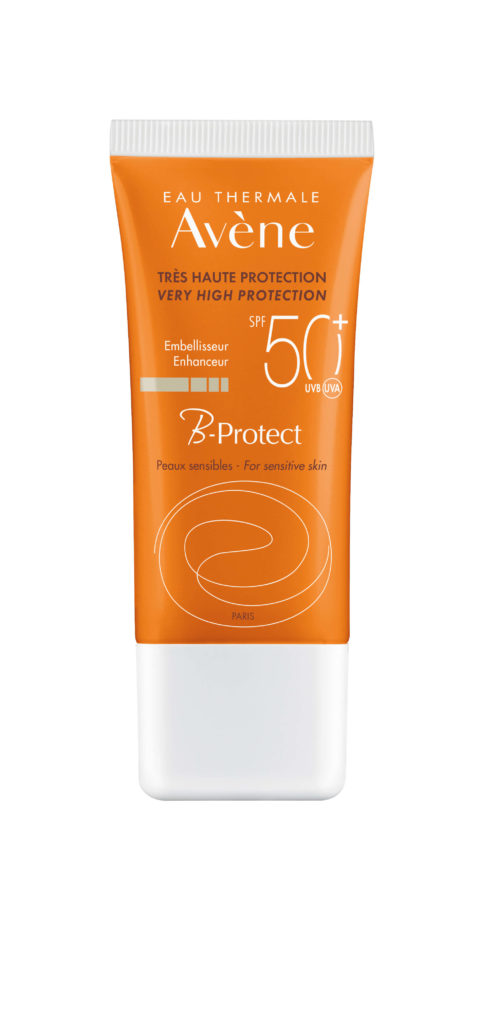 This long-lasting, 3-in-1 facial skin care protector is anti-UV, anti-pollution and skin enhancing. Providing a radiant, nude skin finish and protecting the skin from free-radical damage, B-Protect is a summer handbag hero. Offering a light tint thanks to the micro-encapsulated pigments which are released upon contact with skin, B-Protects has the benefits of sun care and skin care. Suitable for all skin types.
Very High Protection SPF 50+ €22.00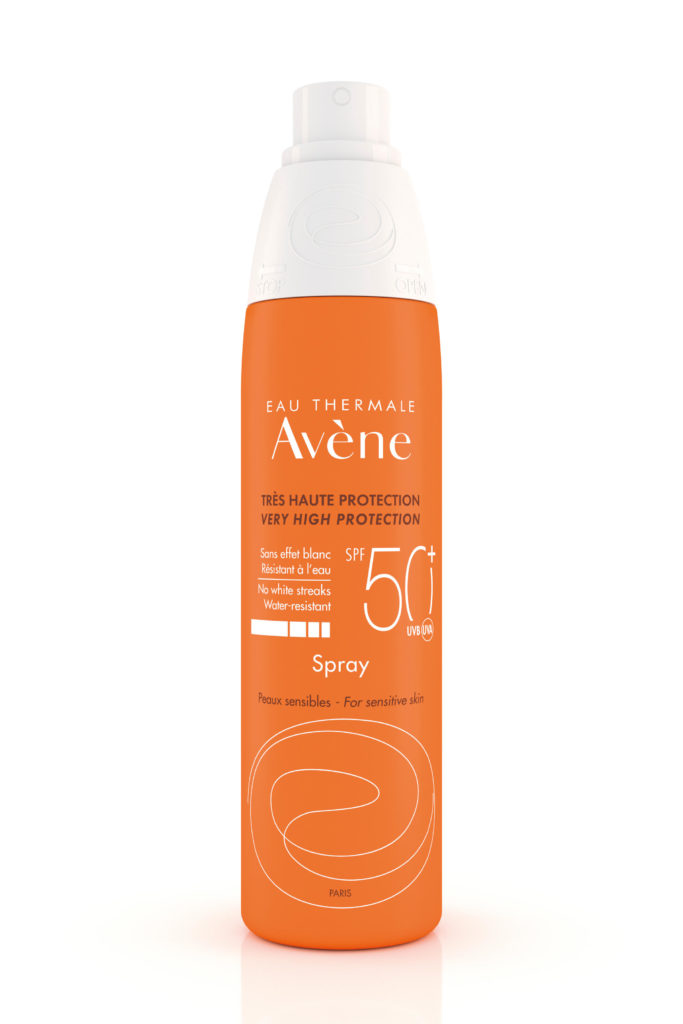 Specially formulated for sensitive and very fair skin, Avène's High Protection Spray gives broad spectrum UV protection; keeping skin safe from both UVA and UVB rays. Long lasting and water resistant, the spray is particularly beneficial for those who are exposed to high levels of sunlight.
Sport Fluid SPF50+ €22.00
Avène's Sport Fluid SPF50+ is specifically developed for people who play sports and, in particular, those with sensitive skin. The long lasting, high-protection fluid is highly water and sweat-resistant. Enriched with an anti-oxidant complex, it protects skin against oxidative stress caused by both sun exposure and physical exertion. The oil-free light texture of the Sport Fluid SPF50+ is breathable with no sticky residue.
Very High Protection Lotion for Children 50+ €20.50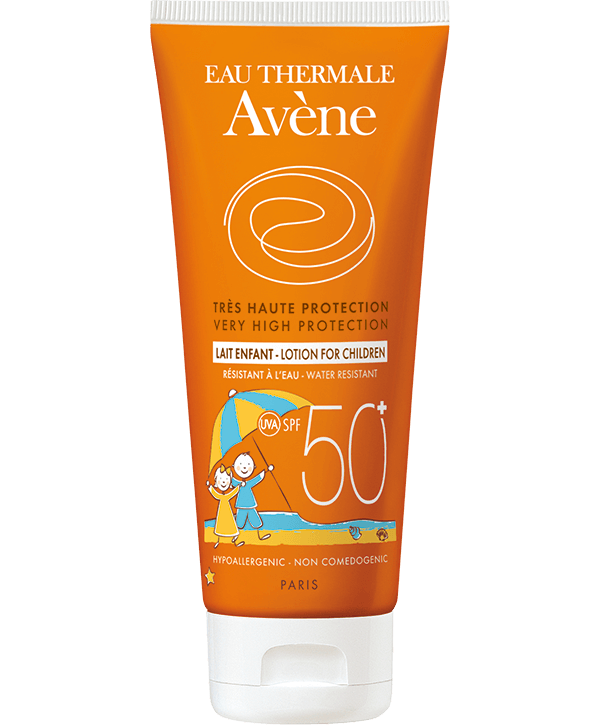 The Very High Protection Lotion for Children SPF50+ is formulated specifically for children with sensitive, light and very fair skin. The lotion is soothing thanks to Avène's Thermal Spring Water and leaves no sticky white residue. Long lasting and water-resistant, the fragrance-free lotion is gentle on the skin and particularly beneficial for those who are exposed to high levels of sunlight. Suitable for children aged 3+.
High Protection Cleanance SPF50 €20.00
This dry touch, mattifying sunscreen is perfect for oily, blemish-prone sensitive skin. Made with Avène Thermal Spring Water, this specialised product has soothing and calming properties while Monolaurin, a sebum-regulating mattifying active, helps fight blemishes.
High Protection Cream SPF50 €20.00
Very high sun protection for dry sensitive skin on the face. A rich and moisturising texture to nourish the skin with an extremely broad-spectrum UVB-UVA for high protection. The formula is photostable and absorbs rapidly while the velvety smooth texture offers skin an instant sensation of comfort.
Avène products are available from pharmacies nationwide and online at www.boots.ie. For more information please visit www.avene.ie.
Avène Mineral Fluid SPF 50+ RRP- €21.00
Avène B-Protect 50+ RRP-€17.00 Avène Sport Fluid SPF 50+ RRP-€22.00
Avène Very High Protection Lotion for Children SPF 50+ RRP-€20.50 Avène Very High Protection Spray 50+ RRP-€22.00
Avène Very High Protection Cleanance 50+ RRP-€20.00
Avène Very High Protection Cream SPF50+ RRP-€20.00