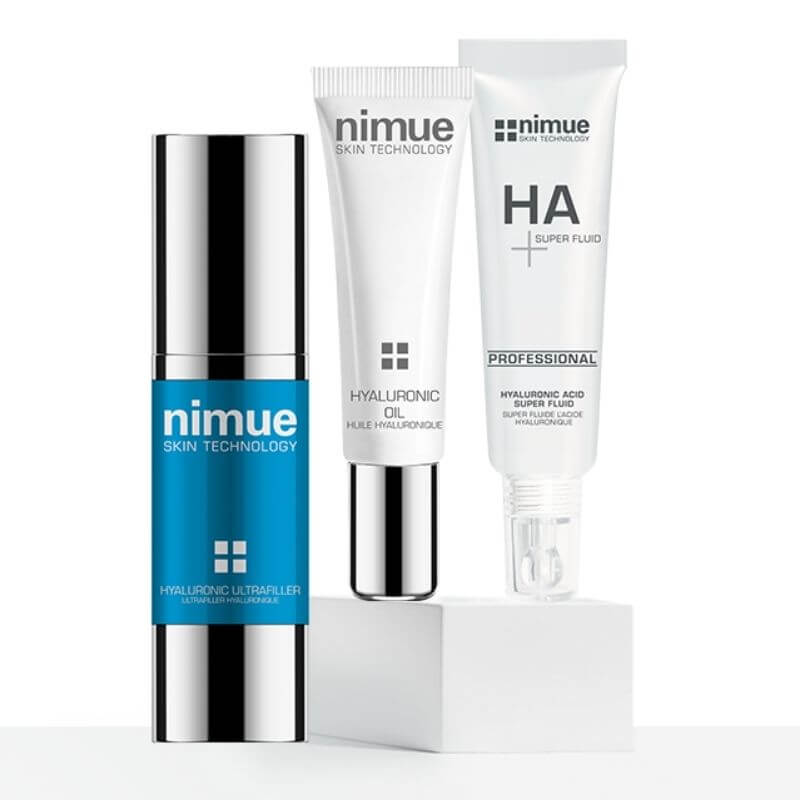 HYALURONIC ACID JUST GOT SMARTER
Say goodbye to dry and dehydrated skin with Nimue's Brand-New Range
Dry and dehydrated skin has proved to be the second biggest skincare concern within the professional industry, which is why Nimue Skin Technology have launched their Dry and Dehydrated range. Comprising three new products – Hyaluronic UltraFiller, Hyaluronic Oil, and Hyaluronic Acid SuperFluid – the range is designed to effectively treat and manage dry and dehydrated skin.
Hyaluronic Acid is the skin's natural moisture source, but it unfortunately has a very short life span and its production slows down with age.Nimue's latest products contain new versions of Hyaluronic Acid combined with a highly effective targeted delivery.
This innovative technology ensures that ingredients are delivered to targeted areas in the skin where they are needed the most, providing immediate and lasting results. By working IN, and not just ON the skin, Nimue's new range successfully treats the root cause of dry and dehydrated skin problems.
To combat dry and dehydrated skin, the Hyaluronic UltraFillerserum and the Hyaluronic Oil can both be included in client's homecare routine, while the Hyaluronic Acid Super Fluidshould be used in salon as part of a professional treatment.
The results of the range include instant plumping and skin smoothing, reduction of fine lines, improved skin radiance, reduction in wrinkle depth and better resistance to future wrinkle formation.
KEY PRODUCT BENEFITS
Hyaluronic UltraFiller

Works as a needle-free filler with visible results in 1-6 hours
Exceptional hydration capacity
Deeper, longer-lasting hydration
Plumps the skin
Reduces wrinkles
Revitalises lifeless, tired and dull looking skin
SALON PRICE: £38.25/€45.00
RRP: £79.00/€90.00
Hyaluronic Oil
Added moisture into the skin boosts skin firmness and reduces formation of lines and wrinkles
Exceptional instant and long-lasting hydration capacity
Holds moisture in the dermis
Prevents Trans Epidermal Water Loss
Provides skin comfort, especially during seasonal changes and cold, dry climates
SALON PRICE: £22.50/€27.00
RRP: £45.00/€54.00
Hyaluronic Acid Super Fluid
Soothing and hydrating during and after a treatment
Immediate replacement of water in the skin
Prevents TEWL
Stimulation of skin defences
Provides cellular repair and wound healing
SALON PRICE: £29.95/€35.95
About Nimue Skin Technology (Nimue)
Nimue Skin Technology is a derma-cosmeceutical brand which uses a unique combination of AHA's (Alpha hydroxy acids) and other advanced active ingredients which trigger stimulation of the structure and function of the dermis to deliver true skin rejuvenation and restoration of skin health (rather than plumping the skin superficially like traditional cosmetic brands).
Nimue products can only be purchased from trained Nimue Therapists who can be located on the Nimue salon locator  http://nimueskin.com/salon-locator/ . If you are interested in becoming a Nimue stockist, please contact Sweet Squared on 0333 000 7000 or info@sweetsquared.com
NIMUE SKIN TECHNOLOGY SUN C LINE EXTENSION. Read more here.