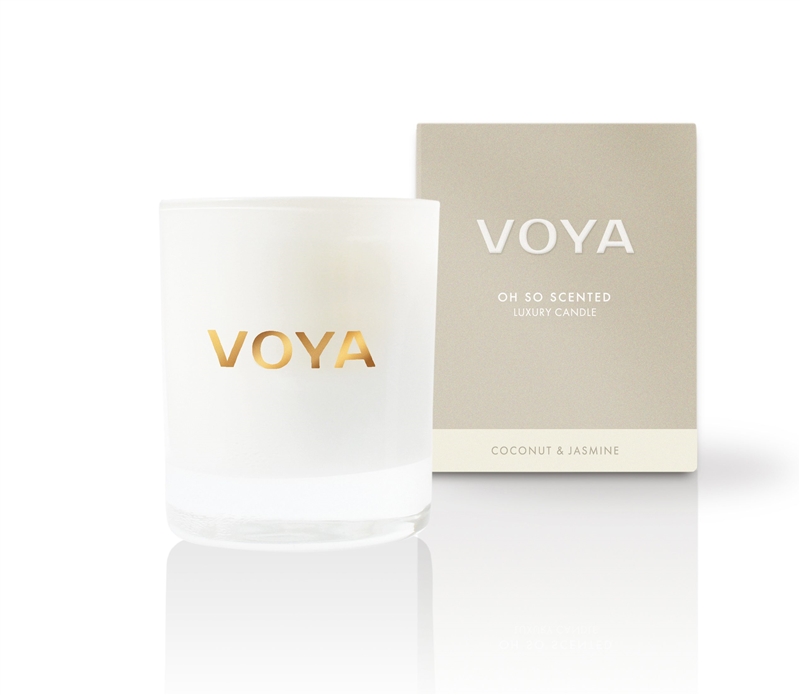 Coconut & Jasmine
Launching September 2020
Close your eyes and let VOYA transport you to the white sandy beaches of the Caribbean. A NEW scented candle with a rich core boasting
tropical notes of Coconut, infused with smooth Vanilla and undertones of Jasmine and Orange. A twist of creamy Amber will soothe and comfort
the soul. This relaxing scent will improve your mood and help to reduce stress levels.

The wax is created with pure, natural Soybean oil and Rapeseed with a few secret natural ingredients. All ingredients are composed of renewable resources, promoting the growth and care of our environment while burning crisp and clean with a gentle natural glow. This packaging box is made from sustainably forested board.

Always trim the wick before lightening. To get the full Luxury Scented Candle experience, allow the candle to fully pool to ensure the wax burns evenly. VOYA is now available in 42 countries worldwide including, 5 star beach resorts in the Caribbean, Maldives, Thailand, New Zealand, Antigua and Mexico.
160 grams 5.6 oz ℮.
Burn Time 30 hrs
$30.00/ £25.00/ € 27.00