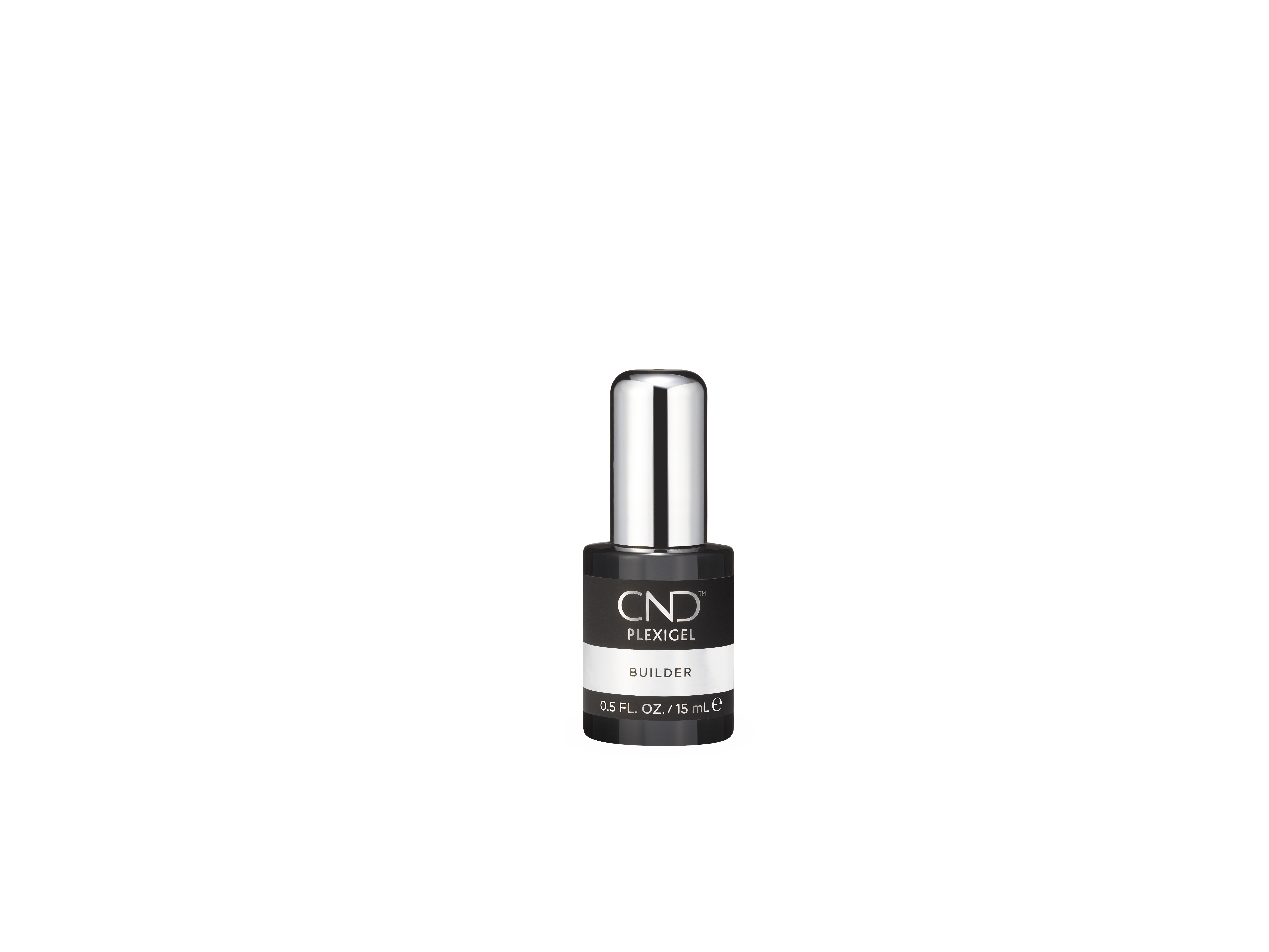 A GROUND-BREAKING BRUSH-IN-A-BOTTLE GEL ENHANCEMENT SYSTEM FOR FLAWLESS LOOKING NAILS
It's the enhancement system that will change the lives of nail techs everywhere! Get ready for CND™ PLEXIGEL! After the creation of CND™ SHELLAC™, the professional gel service that single-handedly revolutionized the nail industry in 2010, CND™ extends its legacy in science and innovation with a unique all-in-one enhancement system.
There are many challenges that consumers face when it comes to nail appearance, among the most frequent being broken, torn, chipped or flat nails. Sometimes, only one or two nails need repairing. What's more frustrating than breaking a nail and thinking you have to file them all down? Now, with CND™ PLEXIGEL, you no longer have to! Common nail problems can be solved with ease—with no pots, no tubes and no mess.
Designed for a versatile and convenient multi-problem solution for nails, CND™ PLEXIGEL's technology provides 3+ weeks of strength, length and shape with minimal application time. Repair chips, cracks and splits with CND™ PLEXIGEL's flexible and tough coating that simultaneously protects the natural nail. The clean and simple brush-in-a-bottle system requires no mixing or dipping, while the custom brushes and self-levelling formula delivers smooth and precise application. Backed by science, deeply rooted in nail health, CND™ PLEXIGEL is formulated to shape, build and protect nails with no nail damage*. You can leave nails perfectly clear or finish with your favorite CND™ color! The options are endless!
"At CND™, we are always striving to improve the quality and performance of our services. CND™ PLEXIGEL is a game-changer for the professional nail industry and the clients that we so passionately serve. This innovation pushes the boundaries of premium service that CND™ stands for, giving you beautifully enhanced nails with ease and without any damage* to your natural nails," says CND™ co-founder, Jan Arnold.
The CND™ PLEXIGEL system includes:
BONDER: A base coat designed for flawless adhesion and long-lasting wear.
SHAPER: A crystal clear brush-on gel nail enhancement that provides protection and strength. Shaper plumps, smooths, shapes nails and helps to repair cracks and splits.
BUILDER: A clear brush-on gel nail enhancement with a buildable formula to achieve longer lengths. Builder provides nail architecture with customizable length, making it easy to sculpt long nails all in one bottle!
PROTECTOR TOP COAT: A top coat for shine, protection and 3+ week wear.
Features and Benefits:
PERFORMANCE
3+ weeks wear of strength, length and shape
Fills in cracked & split nails
Repairs broken nails
Plumps, smooths and shapes flat nails
Customizable nail length
No lifting or chipping
High gloss shine
Low odor formula
CONVENIENCE
Brush-in-bottle nail enhancement for simple and clean application
Self-leveling formula for thin, light and natural-looking nails
Superior custom-built brushes for smooth and precise application
CARE
Creates a protective and strengthening coating-layer for natural nails
No nail damage*
Removable, or rebalance every 3 weeks without the need for removal
CND™ PLEXIGEL is a vegan product not tested on animals
AVAILABLE OCTOBER 2020
TRADE PRICE: £19.95/€22.95 (+VAT) each