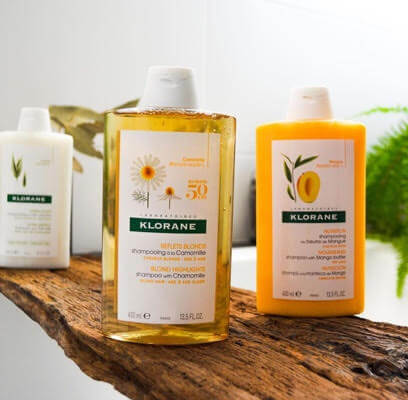 French haircare brand and botanical expert, Klorane is excited to launch its NEW 400ml range of shampoos in three of its most iconic formulas: Mango, Camomile and Oat.
The new XL bottles contain the same botanical ingredients, expertise and sustainable farming methods as before but will leave you reaching for the bottle for longer! Each Klorane product focuses on a single hair concern using one natural active ingredient to target it.
With summer on our doorstep, it's time to take your hair on a journey to explore the origins of three unique ingredients from Klorane.
Mango Butter Shampoo for dry hair 400ml – €15
First top – India, where Klorane mangos are grown and harvested by hand using sustainable and ethical farming methods. The kernel of the mango is known for its high fatty acid content and is scientifically proven to nourish and repair the hair's coating. Klorane's Shampoo with Mango Butter is specifically formulated for dry hair. Gently cleansing, nourishing and restoring lost hydration, hair is left feeling and looking soft, silky and shiny.
Camomile Shampoo for blonde hair 400ml – €15
The journey continues westward to Egypt where Klorane's Camomile flowers are sustainably grown, harvested by hand and dried in the sun. Apigenin is the yellow pigment found in camomile which is shown to help lighten hair naturally and enhance shine. Klorane's Camomile Shampoo is a gentle formula, suitable for the whole family from 3 years of age. This Klorane icon will naturally cleanse, brighten and enhance blonde highlights, colour-treated blonde hair and light brown hair -bringing a hint of summer with it!
Oat Milk Shampoo for all hair types 400ml – €15
The journey finishes where everything started for Klorane in the Tarn region of southwest France. Fields of oat are harvested in the summer when oats are ripe, using organic farming methods. Oat milk is known for its high content of sugar, lipids and vitamins and is clinically proven to soothe and protect hair and the natural balance of the scalp. Developed for all hair types and suitable for children from 3 years, this unique shampoo softens, protects and detangles hair – perfect for the whole family, leaving hair silky and soft.
Klorane products are available from pharmacies nationwide. www.klorane.com/uk.en @kloraneuki
Embrace Your Inner Blonde With Klorane's Chamomile Range. Read more here.